Essential Introductory Linguistics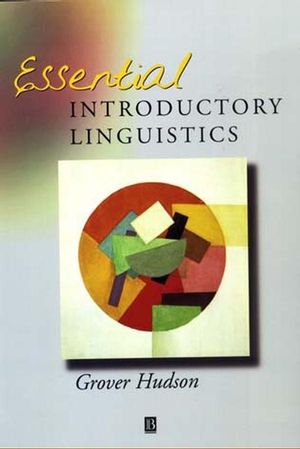 Essential Introductory Linguistics
ISBN: 978-0-631-20304-9
Jul 1999, Wiley-Blackwell
554 pages
Description
This is a new kind of textbook for courses in introductory linguistics. It makes clear what is important or essential, and omits what is not. It is strictly selective, highly structured, focused, to-the-point and informative. It presents material in a way that mirrors the structure of a typical semester of teaching, and integrates many exercises into the text.
List of Figures.
List of Tables.
Preface.
Acknowledgments.
1. Signs and Sign Systems.
2. Phonetics.
3. Phones and Phonemes.
4. Morphemes.
5. The Lexicon and Morphological Rules.
6. Sentences and Syntax.
7. Phrase Structure Rules.
8. Child Language Learning.
9. Explanations of Child Language Learning.
10. Language and the Brain.
11. Adult Language Learning.
12. Animal Languages?.
13. Phonological Rules.
14. Phonological Features.
15. Six Ways to Get New Words.
16. Seven More Ways to Get New Words.
17. Sentence Meaning.
18. Sentence Form.
19. Pragmatics: Inferring Meaning in Context.
20. The Unity of Languages.
21. The Basic History of Writing.
22. The Ecology of Writing.
23. Three Characteristics of Language Change.
24. Eight Causes of Language Change.
25. Language Families.
26. Dialects and Other Sociolects.
27. Register.
28. The History of Linguistics.
References.
Index.
"Grover Hudson's new textbook is an exciting discovery, unlike any other introductory text in linguistics I have seen, and I eagerly anticipate ordering it. It appears perfectly suited for higher-level introductory classes, such as those for upper-division undergraduates and graduate students or specifically for linguistics majors. As its title implies, it concentrates on the essentials, everything most instructors of a second linguistics course will want their students to know from the first, and nothing they won't care if their students don't know yet."
Jeffrey P. Kaplan, San Diego State University
"Grover Hudson's book is an outstanding choice for introductory courses in language and linguistics. It covers almost every topic one might wish to present. Its clear prose, excellent examples and related assignments are strong points. By covering broad topics in short chapters at different levels, it allows the instructor to tailor the book to the needs of different groups of students." Charlotte Webb, San Diego State University

"Grover Hudson's Essentials of Linguistics is a well-written student-friendly text, with the technicalities of language study explained well. As a cautious but encouraging and helpful guide, Hudson clearly explains complicated terms and concepts - a boon to an introductory class. Yet his comprehensive, in-depth coverage of a myriad of linguistics topics makes this an ideal text for higher level linguistic classes as well. Hudson uses dozens of different languages, including non-Indo-European varieties, in his examples and exercises to give students a taste of the broad scope of world languages and thoughtfully includes both British and American phonetics. Particularly impressive are the number, originality, and quality of exercises provided at the end of each chapter, necessary learning tools for both the novice/student and instructor. I am anxious to "test-drive" this text the next time I teach linguistics!" Kathy Lyday-Lee, Professor of English and Linguistics, Elon College

"Grover Hudson's Essential Introductory Linguistics is an extremely readable and sophisticated introduction to the field of linguistics. It provides a balanced synthesis of the most significant current thinking in the field in an accessible and well-documented way, while at the same time providing a wealth of student practice and discussion material at the end of each chapter... The material clearly results from years of refinement in classroom use." Norman Gary, Principal Educational Consultant, Sun Microsystems Inc.'

"Thanks to its good overview of a wide range of issues, Essential Introductory Linguistics is definitely a textbook worth recommending for introductory courses in linguistics; additionally chapters on sounds, vocabulary and word formation can be profitably used in EFL descriptive grammar classes." Studia Linguistica
* Meets the needs of busy students by presenting material in a highly structured, to-the-point way.
* Meets the needs of instructors who want to combine essential information with exercises to test and develop the student's learning.