Essential Neurology, 4th Edition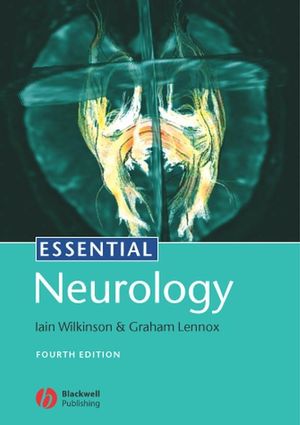 Essential Neurology, 4th Edition
ISBN: 978-1-405-11867-5
Jun 2005, Wiley-Blackwell
288 pages
Description
A brand new edition of Essential Neurology brings the text fully up-to-date. This book is a core text for medical students and junior doctors, who want a comprehensive yet concise practical guide to clinical neurology.

To make the book more readable and digestible, we have introduced colour into the text. This text provides clear explanations of the most common neurological and neurosurgical disorders. The most up-to-date clinical methods are covered to ensure students are learning the newest techniques. To enhance the readers' understanding of this subject more illustrations, line drawings and scans are incorporated into the text.

Another new addition is the inclusion of clinical cases with self-assessment questions at the end of every chapter. These help to clearly illustrate the clinical presentations of key neurological disorders.

Essential Neurology is ideal for medical students on neurology attachments and an excellent review text for the MRCP examination.

Reviews of previous edition

"This is an excellent introductory text for medical students who want their neurology without frills."
—British Medical Journal

"A well-presented manual of practical clinical neurology recommended as easy and enjoyable fundamental reading."
—Brain

"This is an excellent book with a very good all round approach to an understanding of neurology at student level"
—Journal of Neurology, Neurosurgery and Psychiatry
Preface to the fourth edition.
Preface to the first edition.
Acknowledgements.
Abbreviations.
1 Clinical skills, physical signs and anatomy.
2 Stroke.
3 Brain tumour.
4 Head injury.
5 Parkinsonism, involuntary movements and ataxia.
6 Paraplegia.
7 Multiple sclerosis.
8 Cranial nerve disorders.
9 Nerve root, nerve plexus and peripheral nerve lesions.
10 Motor neurone disease, peripheral neuropathy, myasthenia gravis and muscle disease.
11 Unconsciousness.
12 Epilepsy.
13 Headache and facial pain.
14 Dementia.
15 Infections of the nervous system.
Answers to case histories.
Index.
Reviews of previous editions:
"This is an excellent introductory text for medical students who want their neurology without frills." (British Medical Journal)
"A well-presented manual of practical clinical neurology recommended as easy and enjoyable fundamental reading." (Brain)
"This is an excellent book with a very good all round approach to an understanding of neurology at student level" (Journal of Neurology, Neurosurgery and Psychiatry)
*Comprehensive yet concise practical guide to clinical neurology.
*Ideal for medical students on neurology attachments
*An excellent review text for MRCP examination candidates.
*Clear explanation, in both text and diagrams, of the common neurological and neurosurgical disorders.
*New colour illustrations incorporated.
*New problem-based clinical cases help to illustrate the clinical presentations of key neurological disorders.