Essentials of 16PF Assessment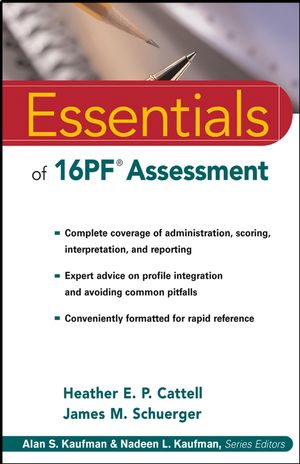 Essentials of 16PF Assessment
ISBN: 978-0-471-47413-5 November 2003 320 Pages
Description
Complete coverage of the widely used 16PF measure of personality
Essentials of 16PF Assessment is a valuable guide to administering, scoring, and interpreting this popular measure of normal personality. Using the proven Essentials format, Cattell and Schuerger clearly describe how to use the instrument; provide critical information about its validity and reliability; and include helpful guidelines for using the instrument effectively with individuals, couples, and families, in settings ranging from clinical and forensic to corporate environments and other workplaces.
Essentials of 16PF Assessment provides comprehensive coverage of test administration, scoring, and interpretation. As well, this informative resource provides expert assessment of the method's relative strengths and weaknesses, valuable advice on its clinical applications, and illuminating sample cases.
Like all the volumes in the Essentials of Psychological Assessment series, this book is designed to help busy professionals quickly acquire the knowledge and skills they need to make optimal use of a major psychological assessment inst rument. Each concise chapter features numerous callout boxes highlighting key concepts, bulleted points, and extensive illustrative material, as well as test questions that help you gauge and reinforce your understanding of the information covered.
Chapter 1. Overview
Chapter 2. How to Administer and Score the 16PF Questionnaire
Chapter 3. The 16PF Questionnaire Scales
Chapter 4. How to Interpret the 16PF Questionnaire
Chapter 5. Strengths and Weaknesses of The 16PF Questionnaire
Chapter 6. Career and Organizational Applications
Chapter 7. Clinical and Counseling Applications
Chapter 8. Illustrative Case Reports
Appendix 1. Reports Generated from 16PF Scores
N/A
Written by the author of the 16PF® 5th ed. and the author of the Adolescent Personality Questionnaire-the junior version of the 16PF®.
Part of the popular Essentials of Psychological Assessment series
Features quick-reference boxes, case examples, and "Test Yourself" questions
Practical, step-by-step guide to using the 16PF® effectively.