Essentials of Business Processes and Information Systems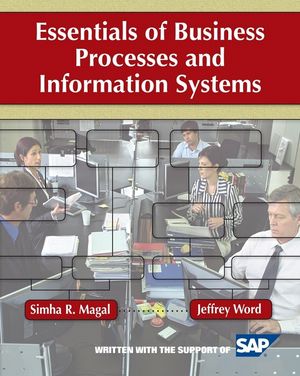 Essentials of Business Processes and Information Systems
Product not available for purchase
Description
Essentials of Business Processes and Information Systems bridges the gap between the fundamentals of how businesses operate (processes) and the tools that business people use to accomplish their tasks (systems). The authors have developed this supplement text for an introductory MIS or general business course to establish a fundamental understanding of business processes. Business students, regardless of their functional discipline, will be able to apply the real-world concepts discussed in this text immediately upon entering the workforce. As more and more businesses adopt enterprise systems globally, it becomes increasingly important for business schools to offer a process-based curriculum to better reflect the realities of modern business. Given the integration of business operations and enterprise systems, Magal and Word have designed this text to reflect, in a practical and accessible format, how real-world business processes are managed and executed.
Chapter 1: Organizations, Processes, and Information Systems.

Chapter 2: Enterprise Systems.

Chapter 3: The Procurement Process.

Chapter 4: The Fulfillment Process.

Chapter 5: The Production Process.

Chapter 6: Integrated Processes.
Business Processes and Information Systems
uses a blended-learning approach comprised of
three unique aspects
, in addition to standard textbook content:
Case Study:  The book illustrates all of the key concepts by utilizing a straightforward case study of an individual company throughout the book.  The case describes a manufacturing organization in terms of its key processes.  Student assignments are also based on this case.
A 2-Step Learning Process:  Students will first execute processes on paper (i.e., create the process flowcharts and documents associated with the process) then execute them in a simulated SAP® environment.
Simulated SAP Environment: Assignments and exercises in the textbook can be completed using the market-leading enterprise software, SAP®.  This book is written in partnership with SAP® and includes access to a hosted system that simulates the use of the most recent SAP® software.  Access to a live SAP® system or membership in the SAP University Alliance will not be required to use the simulated environment. This simulated SAP® environment is indistinguishable from an actual system. Assignments are automatically graded and data regarding the assignment will be submitted to the instructor.