Essentials of Clinical Supervision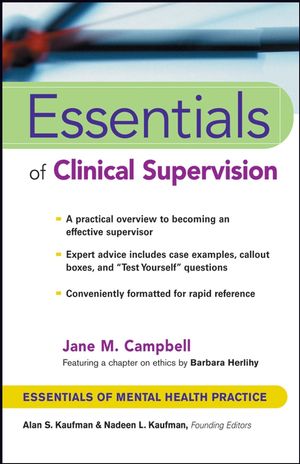 Essentials of Clinical Supervision
ISBN: 978-1-118-03969-4 January 2011 304 Pages
Description
Essentials of Supervision presents, in the popular Essentials format, the key information students need to learn in a course on supervision. Utilizing pedagogical tools such as call-out boxes, Test Yourself questions, and case studies, the author provides step-by-step guidelines for effective planning, goal setting, and evaluation, along with tips for giving constructive feedback and applying coaching strategies to motivate supervisees. She also clearly explains how to manage paperwork and describes specialized techniques, such as using video in supervision. This informative text also includes a special section on ethics authored by a leading expert in the field.
1. Overview of Clinical Supervision.

2. Ethical, Legal, and Professional Issues in Supervision.

3. Models of Supervision.

4. Methods and Techniques of Supervision.

5. Planning for Supervision.

6. The Beginning Stage of Supervision.

7. The Intermediate Stage of Supervision.

8. The Advanced Stage of Supervision.

9. Mentoring and Advocacy.
n/a
1. Written by a leading authority, national speaker, and former professor of clinical supervision 
  2. Features student-friendly tools, such as callout boxes highlighting important information and Test Yourself questions to reinforce knowledge
3. Features practical information on how to be an effective supervisor, including how to set up peer supervision, group supervision, as well as demonstrating different techniques for doing individual supervision
  4. Section on ethical and legal concerns related to supervision authored by Barbara Herlihy, a leading expert in this area.