Essentials of Contemporary Business, Binder Ready Version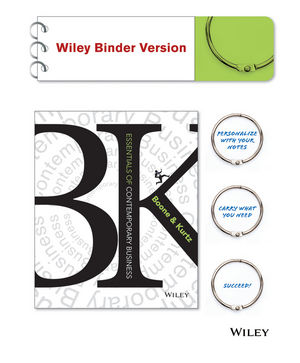 Essentials of Contemporary Business, Binder Ready Version
ISBN: 978-1-118-33649-6 November 2013 336 Pages
Selected type:
Loose-leaf
Description
This text is an unbound, binder-ready edition.

We've listened. Boone/Kurtz, Essentials of Contemporary Business is the flexible, current, and easy-to-use resource that today's students and teachers want. Our commitment to delivering solutions at the speed of business has produced the perfect combination of current material, illustrative examples and a storytelling narrative -- all in a brief, valued-priced package. Covering all of the major topics of the introduction to business course, Boone/Kurtz, Essentials of Contemporary Business offers shorter chapters and a visually pleasing design paired with a comprehensive suite of resources to help you make business concepts come alive. Experience a textbook program that supports your goals to stimulate curiosity, show relevance, promote creativity, and prepare students for what's ahead, in both their academic and business careers.
PART 1 Business in a Global Environment
Chapter 1 - The Changing Face of Business
Chapter 2 - Business Ethics and Social Responsibility
Chapter 3 - Economic Challenges Facing Contemporary Business
Chapter 4 - Competing in World Markets
Part 2 Starting and Growing Your Business
Chapter 5 - Forms of Business Ownership and Organization
Chapter 6 - Starting Your Own Business: The Entrepreneurship Alternative
Part 3 Management: Building Organizational Capability for Superior Performance
Chapter 7 - Management, Leadership, and the Internal Organization
Chapter 8 - Human Resource Management: From Recruitment to Labor Relations
Chapter 9 - Top Performance through Empowerment, Teamwork, and Communication
Chapter 10 - Production and Operations Management
Part 4 Marketing Management
Chapter 11 - Customer-Driven Marketing
Chapter 12 - Product and Distribution Strategies
Chapter 13 - Promotion and Pricing Strategies
Part 5 Managing Technology and Information
Chapter 14 - Using Technology to Manage Information
Part 6 Managing Financial Resources
Chapter 15 - Understanding Accounting and Financial Statements
Chapter 16 - The Financial System
Chapter 17 - Financial Management
Glossary
Currency: Boone and Kurtz Essentials of Contemporary Business features the most current content and relevant examples to illustrate business concepts.
Contemporary Business Weekly Updates: Wiley's Weekly Updates news site sparks classroom debate around current events that apply to your business course topics. We save you time by emailing you—every Monday—the most relevant news articles and videos tagged to the textbook and complemented by discussion questions.
Video Series: Three different video series accompany the text and all feature high-definition, documentary-style video clips and profile companies like Zipcar, Seventh Generation, and Comet Skateboards to reinforce key concepts, and expose students to innovative business practices.
Comprehensive Resource Package: Annotated Instructor's Edition, WileyPLUS, complete Instructor's Manual, extensive Test Bank, Video PowerPoints, Video Cases, simulations, and more make up the leading suite of teaching materials.
WileyPLUS is now equipped with an adaptive learning module called ORION. Based on cognitive science, WileyPLUS with ORION, provides students with a personal, adaptive learning experience so they can build their proficiency on topics and use their study time most effectively. WileyPLUS with ORION helps students learn by learning about them.