Essentials of Corporate Finance
Essentials of Corporate Finance
ISBN: 978-1-118-79991-8 October 2013 656 Pages
Description
Essentials of Corporate Finance with WileyPLUS offers a focused choice for instructors teaching the fundamentals of value creation by offering a balance of intuitive conceptual understanding, problem solving and analysis, and decision making skills. 
Students who understand the intuition underlying the basic concepts of finance are better able to develop the critical judgments necessary to apply financial tools in real decision-making situations.  Authors Bob Parrino, Tom Bates, and David Kidwell present a concise treatment of foundational topics while maintaining the same effective Learning by Doing pedagogy found in the successful Fundamentals edition. With WileyPLUS, students come to class prepared after working through Orion's adaptive learning module, develop problem solving skills with instant feedback on their work, and are guided through examples with Animated Learning by Doing. 
Essentials of Corporate Finance includes every resource found in Fundamentals, giving instructors and students all the resources they need to be successful.  This briefer edition will help your students develop a clear understanding of the material as well as how to apply Corporate Finance to their future studies and career paths.

WileyPLUS sold separately from text.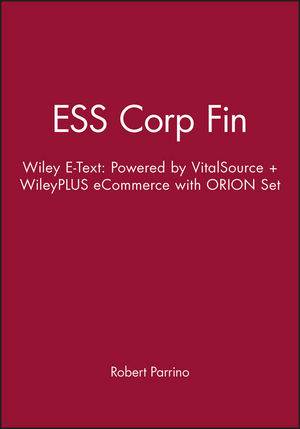 This item: Essentials of Corporate Finance
Purchased Together:$143.50
PART 1 INTRODUCTION
1. The Financial Manager and the Firm
PART 2 FOUNDATIONS
2. The Financial System and the Level of Interest Rates
3. Financial Statements, Cash Flows, and Taxes
4. Analyzing Financial Statements
PART 3 VALUATION OF FUTURE CASH FLOWS
5. The Time Value of Money, Discounted Cash Flows, and Valuation
6. Risk and Return
7. Bond Valuation and the Structure of Interest Rates
8. Stock Valuation
PART 4 CAPITAL BUDGETING DECISIONS
9. The Fundamentals of Capital Budgeting
10. Cash Flows and Capital Budgeting
11. The Cost of Capital
PART 5 FINANCING DECISIONS
12. Working Capital Management
13. How Firms Raise Capital
14. Capital Structure Policy
15. Dividends, Stock Repurchases, and Payout Policy
PART 6 FINANCIAL PLANNING
16. Financial Planning and Managers Growth
PART 7 INTERNATIONAL DECISIONS
17. International Financial Management
An Intuitive Approach: Explaining finance concepts in an intuitive context helps students develop a richer understanding of those concepts and gain better insights into how finance problems can be approached. Building Intuitionboxes provide a statement of an important finance concept along with an intuitive example or explanation to help the student "get" the concept.
Learning by Doingapplications contain quantitative problems with step-by-step solutions to help students better understand how to apply their intuition and analytical skills to solve problems.  This unique feature takes the stepped-out problem beyond other texts by offering "approaches" students can take to solve each problem.
Decision-Making Examplesemphasize the decision-making process along with computation and provide students at all levels with experience in financial decision-making.
Adaptive Learning: WileyPLUS is equipped with an adaptive learning module called ORION. Based on cognitive science, WileyPLUS with ORION, provides students with a personal, adaptive learning experience so they can build their proficiency on topics and use their study time most effectively. WileyPLUS with ORION helps students learn by learning about them.
Finance Weekly Updates: www.wileyfinanceupdates.com. Every week brings you the latest news relevant to your Finance course. Password only available to current users.
Extensive End-of-Chapter Problems and Questions In addition to the many numerical examples that are solved in the text of each chapter, Essentials of Corporate Finance has more than 960 end-of-chapter problems which have been written with Bloom's Taxonomy in mind.
Problems w/Detailed Solutions to reinforce the methods used to solve problems discussed in the chapter.  Stepped out solutions and financial calculator solutions for each problem are available in WileyPLUS as feedback to students.
Critical Thinking Questions require students to think through their understanding of the basic concepts and apply those concepts to a problem.
Questions and Problems provide a broad range of questions and problems, including sample problems from CFA Institute, covering a range of difficulty levels to help students solidify their understanding of the concepts. Excel Problems are identified for selected Problems that can be solved using Excel templates at the student website. 
Sample Test Problems call for straightforward applications of the chapter concepts and gives students a sense of comfort in test preparation.