Essentials of Creativity Assessment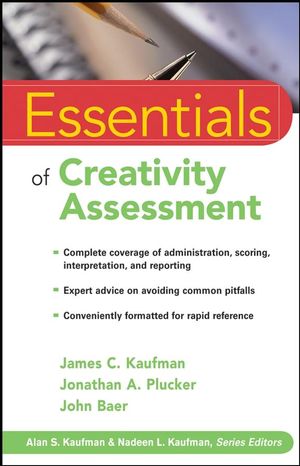 Essentials of Creativity Assessment
ISBN: 978-0-470-38302-5
Jul 2008
304 pages
Description
Discover practical, step-by-step instructions for accurately and effectively assessing creativity with Essentials of Creativity Assessment, a guide that provides useful information about using solid theoretical and research-based evidence for creativity assessment. Quickly acquire the knowledge and skills you need to effectively assess creativity, a popular measure of cognitive ability correlated with intelligence. Receive an overview of the wide variety of assessments that can be used to gauge creativity, enabling you to select the creativity assessment method that best fits the situations, groups of people, and programs that are involved.
Acknowledgments.
Series Preface.
One. Introduction to Creativity.
Two. Divergent Thinking Tests.
Three. The Consensual Assessment Technique.
Four. Assessment by Others: Teacher, Peer, and Parent Measures.
Five. Self Assessment.
Six. Creativity, Intelligence, and Giftedness.
Seven. Moving Forward.
References.
Annotated Bibliography.
Index.
About the Authors.
Best source of information for assessing creativity, an indicator of intelligence.  Creativity is one of the assessments most in demand from admissions committees, professors, administrators, and other gatekeepers in the academic world.

Authors present balanced coverage of the wide variety of assessments that can be used to gauge creativity, and present the information in concise, easy-to-understand language.

Utilizes the popular Essentials format and includes handy features such as "Don't Forget" boxes, "Rapid References," and "Test Yourself" questions at the end of each chapter.