Essentials of DAS-II Assessment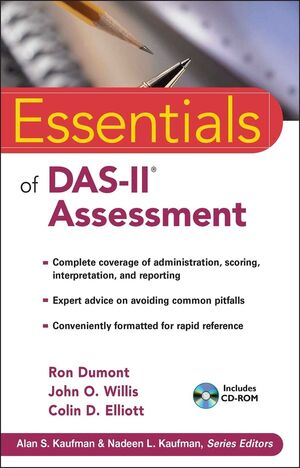 Essentials of DAS-II Assessment
ISBN: 978-0-470-45047-5 December 2008 416 Pages
Description
Essentials of DAS-IIƠAssessment
is the best source of information on the new edition of the DASƠinstrument, providing you with illuminating case reports, expert assessment of the test?s relative strengths and weaknesses, and valuable advice on its clinical applications. Written by Ron Dumont, John Willis, and Colin Elliott, this book is accompanied by a CD-ROM containing customizable Excel worksheets, PDF files, and Microsoft Word documents to conveniently allow you to add your own DAS-II evaluation results.
Note: CD-ROM/DVD and other supplementary materials are not included as part of eBook file.
Table of contents
1. Overview.
2. How to Administer the DAS-II.
3. Test Administration Features Unique to the DAS-II: Use of Item-Sets and Basal and Ceiling Rules.
4. How to Score the DAS-II.
5. How to Interpret the DAS-II.
6. Strengths and Weaknesses of the DAS-II.
7. Clinical Applications of the DAS-II.
8. Illustrative Case Reports.
Reviews
?It is one of those books that you really must have in order to be an effective psychometrician and report writer.? (Doody?s , August 2009)
Features
The author team to write this book, as Colin D. Elliott is the author of the DAS and the DAS-II and John Willis and Ron Dumont have written a book together on identifying learning disabilities.

This book will correspond to the recent revision of the DAS to the DAS-II, and will provide practitioners with the information they need on administering, scoring, and interpreting the new test.

According to the test author (Elliott), approximately 150,000 children were given the DAS per annum (90,000 school-age, and 60,000 preschool) and he anticipates that the number of DAS-II administrations will be even higher.

Book packaged with accompanying CD ROM that includes Excel spreadsheets, PDF files, scoring tables, and Microsoft Word documents that can be customized so users can add their own DAS-II evaluation results.

Utilizes the popular Essentials format and includes handy features such as "Don't Forget" boxes, "Rapid References," and "Test Yourself" questions at the end of each chapter.