Essentials of Medical Genomics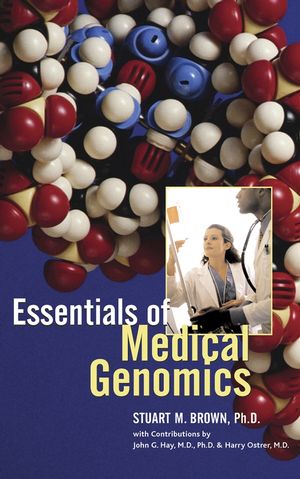 Essentials of Medical Genomics
ISBN: 978-0-471-27061-4 August 2003 288 Pages
Description
This introductory reference provides a practical, concise summary of everything a physician needs to know about genomics and emerging technologies. Through extensive illustrative examples, this book offers a clear and concise starting point to understanding how medicine has been, and will be, transformed by genomics and bioinformatics. Beginning with a clear overview on the Human Genome Project and its revolutionary impact, the book further investigates new technologies in detail, including: high-throughput DNA sequencing, genome sequence databases, microarrays, proteomics, pharmacogenomics, genetic testing, and gene therapy.
Table of contents
Preface.

Acknowledgments.

Deciphering the Human Genome Project.

Genomic Technology.

Bioinformatics Tools.

Genome Databases.

Human Genetic Variation.

Genetic Testing for the Practitioner (H. Ostrer).

Gene Therapy (J. Hay).

Microarrays.

Pharmacogenomics and Toxicogenomics.

Proteomics.

The Ethics of Medical Genomics.

Glossary.

Index.
Reviews
"...makes a complex subject accessible to medical students with a variety of backgrounds..." (American Journal of Medical Genetics, March 1, 2004)

"...this book is an excellent reference for medical students and physicians for the purpose of facilitating their learning about genomics and bioinformatics...also of great value to clinicians..." (Annals of Biomedical Engineering, October 2003)

"I would highly recommend this volume for clinical chemists, physicians, residents and students who are not currently engaged in genomics research but who desire a bird's eye view of the field." (Clinical Chemistry, 50, No. 6, 2004)

"I enjoyed this book...because of its sensible approach and coverage, and I learned a lot from it...this book...should prove to be of value." (Biochemistry and Molecular Education, March/April 2003)

"...an excellent reference for medical students and physicians...also of great value to clinicians..." (Annals of Biomedical Engineering, Issue 31:09)

"...useful to both medical students and physicians alike..." (Genomics and Proteomics, March 1, 2003)

"It will be quite useful to anyone from other fields who is interested in a taste of what emerging technologies in genomics, proteomics, and bioinformatics can bring to bear on questions of potential importance in biomedical research." (American Journal of Human Genetics)

"...a good purchase for...academic or medical libraries as well as large public ones." (E-Streams, Vol. 6, No. 5, May 2003)

"readable account of the underpinnings of genomics and its medical applications...a clearly written book that makes a complex discipline understandable..." (New England Journal of Medicine, July 24, 2003)

"...quite useful to anyone...interested in a taste of what emerging technologies in genomics, proteomics, and bioinformatics can bring to bear on questions of potential importance in biomedical research." (American Journal of Human Genetics, Vol. 72, 2003)

"...this book was exactly what I was looking for: a high-level overview of genomic technologies and their application...Brown's book is highly recommended..." (Pharmaceutical Research, Vol. 20, No. 6, June 2003)

"...this was a very useful book...I will be glad to have it on my bookshelf..." (Human Genomics, January 2004)