Essentials of Neuropsychological Assessment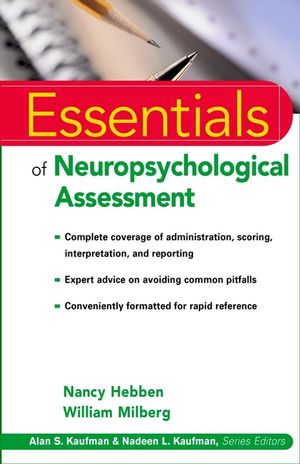 Essentials of Neuropsychological Assessment
ISBN: 978-0-471-21589-9
Jul 2002
264 pages
Description
Neuropsychological testing can identify changes in cognition, behavior, and emotion; aid in determining the cause of the change (e.g., neurologic disease, psychiatric disorders, or developmental problems); and assist clinicians in planning treatment and rehabilitation. To use these tests properly, professionals need an authoritative source of advice and guidance on how to administer, score, and interpret them. Written by two leading experts in neuropsychological assessment, Essentials of Neuropsychological Assessment is that source.

Like all the volumes in the Essentials of Psychological Assessment series, this book is designed to help busy mental health professionals quickly acquire the knowledge and skills they need to make optimal use of major psychological assessment instruments. Each concise chapter features numerous callout boxes highlighting key concepts, bulleted points, and extensive illustrative material, as well as test questions that help you gauge and reinforce your grasp of the information covered.

Essentials of Neuropsychological Assessment provides comprehensive instruction on test administration, scoring, and interpretation. The authors also address practical and conceptual issues related to neuropsychological assessment in geriatric, pediatric, forensic, and other specialized settings, as well as the essentials of report writing and common neuropsychological syndromes.
Series Preface.

Introduction to Neuropsychological Assessment.

The Discipline of Neuropsychological Assessment.

Essentials of the Interview and Clinical History.

Essentials of Test Selection, Administration, and Scoring.

Essentials of Interpretation.

Special Issues in Neuropsychological Assessment.

Essentials of Report Writing.

Appendix A: A General Guide for Neuropsychological Assessment.

Appendix B: Essentials of the Neurobehavioral Syndromes.

References.

Annotated Bibliography.

Index.

About the Authors.
"...plenty of information in this book, useful to both students and to experienced neuropsychologists..." (
Nueropsychological Rehabilitation
, September 2003)
"...Hebben and Milberg have written a text that has considerable strengths and would make an excellent resource for neuropsychologists in training or nonspecialists looking for an overview of neuropsychlogical assessment." (Journal of Psychoeducational Assessment)