Essentials of Patents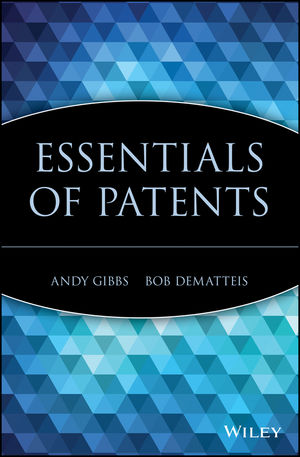 Essentials of Patents
ISBN: 978-0-471-25050-0 January 2003 288 Pages
Description
While there are many books on ""how to patent"" and patent law, Essentials of Patents delivers practical advice on how to leverage patents as a powerful competitive corporate tool.

This is not your ""ordinary patent book"". It's emphasis is directed to patent management with the express emphasis of increasing shareholder value, and it's audience, each with its own chapter, includes the CEO / ICO, CFO, CTO, and cross functional managers of HR, Engineering, Manufacturing and IT. Essentials of Patents is arguably one of the first works on intellectual property that drives home the importance of patent creation, protection and exploitation throughout the enterprise.

Gibbs and DeMatteis show how patents can enhance competitive intelligence, product development cost reduction, product line expansion, and revenue streams, making this guide a must-have for the savvy manager.

In it, the authors introduce a new management methodology: Patent Quality Management, or ""PQM"". With public company market values more than 90% attributable to the value of intangible assets and patents, the time has come for all corporate managers, not just R&D and legal counsel, to master intellectual property management in this competitive global market (and shareholders are demanding it).
Preface.

Introduction.

1 Patents: High Stakes, High Value, High Liability.

2 Patent Licensing.

3 Patent Strategy.

4 Patent Tactics.

5 Managing Patents in the Marketing Department.

6 Managing Patents in the Engineering Department.

7 Managing Patents in Manufacturing and Operations.

8 Managing Patents in the Finance Department.

9 Managing Patents in the Human Resources Department.

10 Managing Patents in the Information Technology Department.

11 Patent Management and the Corporate/
IP Counsel.

12 Patent Management Paradigm for the CEO/
ICO.

Index of Organizations.

Index.