Essentials of Professional Cooking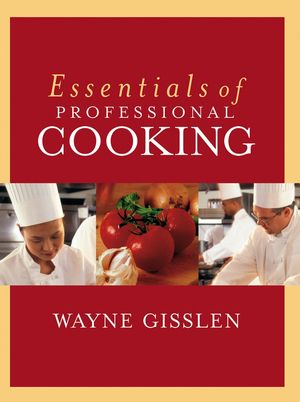 Essentials of Professional Cooking
ISBN: 978-0-471-46916-2 June 2006 576 Pages
Description
Tens of thousands of aspiring and professional chefs have looked to Wayne Gisslen's
Professional Cooking
to acquire the essential knowledge they need to succeed in the business. Specially designed to meet the on-the-job demands of foodservice managers,
Essentials of Professional Cooking
distills core information from this outstanding resource to offer a new streamlined approach to cooking basics–from tools and equipment, sanitation and safety, and cooking principles to recipes, menus, and more. Illustrating general cooking theory with specific applications in the kitchen, this new book details how basic techniques, such as roasting, sautéing, braising, or grilling, are applied to a variety of ingredients.
Essentials
uses recipes to reinforce technique and features every sort of dish, occasion, and meal category a foodservice manager needs to know, covering breakfast preparation, hors d'oeuvres, soups, sandwiches, sauces, salads, meat, poultry, and fish and shellfish.
Designed for everyday reference, the book includes hundreds of full-color photos that illustrate basic manual techniques and highlighted boxes that provide at-a-glance information. The accompanying CD-ROM, with its popular ChefTecTutor® software, allows users to edit, modify, and print recipes (including hundreds of additional recipes from the original Professional Cooking); adjust portion size; conduct recipe searches by ingredient, meal, and cuisine type; and calculate nutritional analysis and recipe cost.
Presenting foodservice managers with all the know-how of the original volume in a highly practical format, Essentials of Professional Cooking is the ideal resource for keeping the kitchen, service, costs, and the daily life of a restaurant in good working order.
Table of contents
Preface.

Acknowledgments.

The Food Service Industry.

Sanitation and Safety.

Tools and Equipment.

Basic Cooking Principles.

The Recipe: It's Structure and Its Use.

The Menu.

Mise en Place.

Stocks and Sauces.

Soups.

Understanding Meats and Game.

Cooking Meats and Game.

Understanding Poultry and Game Birds.

Cooking Poultry and Game Birds.

Understanding Fish and Shellfish.

Cooking Fish and Shellfish.

Understanding Vegetables.

Cooking Vegetables.

Potatoes and Other Starches.

Salads and Salad Dressings.

Sandwiches and Hors d'Oeuvres.

Breakfast Preparation, Dairy Products, and Coffee and Tea.

Food Presentation and Garnish.

Bakeshop Production: Basic Principles and Ingredients.

Yeast Products.

Appendix 1. Metric Conversion Factors.

Appendix 2. Standard Can Sizes.

Appendix 3. Approximate Weight-Volume Equivalents of Dry Foods.

Appendix 4. Kitchen Math Exercises--Metric Versions.

Appendix 5. Eggs and Safety.

Bibliography.

Glossary.

Index.
Reviews
"…an invaluable tool for restaurant managers…" (Restaurant, 5th October 2005)
What's New
First fully illustrated, four color book targeted to foodservice managers rather than chefs.
Author is well-known for his clear, concise, and accurate descriptions of techniques and basic recipes.
Sections incorporate 2001 FDA food code updates.
Interactive media includes recipes, resizing feature, costing, purchasing lists, nutritional analysis, searching, sorting, and grocery lists.