Essentials of Risk Management and Insurance, 2nd Edition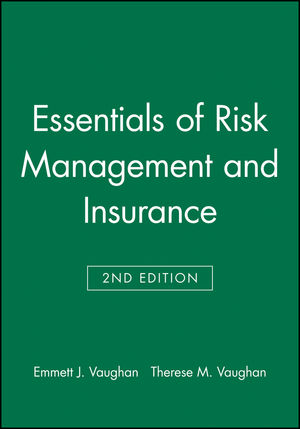 Essentials of Risk Management and Insurance, 2nd Edition
ISBN: 978-0-471-23333-6 April 2002 656 Pages
Description
This text is designed to use in an undergraduate or MBA level course in insurance and risk management. As an introduction to the subject, it is intended for students who have little or no prior education in insurance. The text is consumer-oriented with an emphasis on the insurance product.
RISK, RISK MANAGEMENT, AND INSURANCE.
The Problem with Risk.
Risk Management.
The Insurance Device.
The Risk Management Process.
Risk Management Applications.
The Private Insurance Industry.
Functions of Insurers.
Regulation of the Insurance Industry.
The Legal Framework.
LIFE AND HEALTH INSURANCE.
Managing Personal Risks.
Social Insurance Programs.
Introduction to Life Insurance.
The Life Insurance Contract.
Buying Life Insurance and Estate Planning.
Health Insurance: Disability Income Insurance.
Health Insurance—Coverage for Medical Expenses.
Employee Benefits and Business Uses of Life and Health Insurance.
PROPERTY AND LIABILITY INSURANCE.
The Homeowners Policy.
Other Personal Forms of Property Insurance.
Negligence and Legal Liability.
General Liability Insurance for the Individual.
The Automobile and Its Legal Environment.
The Personal Auto Policy.
Commercial Property and Liability Coverages.
Insurance in the Future.
Appendix A: Glossary.
Appendix B: State Insurance Commissioners.
Appendix C: Whole Life Policy.
Appendix D: Universal Life Policy.
Appendix E: Homeowners Policy.
Appendix F: Personal Auto Policy.
Index.