Essentials of Social Work Policy Practice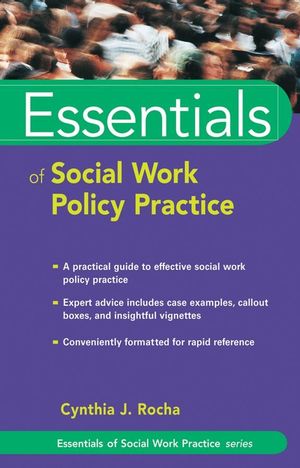 Essentials of Social Work Policy Practice
ISBN: 978-0-471-75220-2 April 2007 222 Pages
Description
A concise overview of the policy practice information social workers need to advocate for policy changes within an organization and at local, state, and national levels

Given the nature of their work, social workers must understand social problems and the ways social welfare policies are established. Written by a leading expert in social work policy, Essentials of Social Work Policy Practice presents specific tactics for policy practice as well as instructions on how to implement it at several different organizational and government levels.

Focusing on developing skills, Essentials of Social Work Policy Practice is a practical resource that includes step-by-step guidelines for putting a plan into action and working efficiently within a system. Techniques are presented for handling a number of related topics including effective interpersonal communication and participation, utilizing technology and the media in policy practice, creating change within organizations, and many more.

As part of the Essentials of Social Work Practice series, this book is an indispensable resource that offers a concise yet thorough overview of policy practice, numerous tips for best practices, and valuable advice that must be at one's fingertips to practice knowledgeably, effectively, and ethically. Each chapter features numerous callout boxes highlighting key concepts, bulleted points, case examples, and extensive illustrative material, as well as vignettes that promote critical thinking around policy practice planning.
Table of contents
Series Preface ix
Acknowledgments xi
One Introduction to Community-Based Policy Practice 1
Two Essentials of the Planning Process 14
Three Essentials of Effective Interpersonal Communication and Participation 27
Four Communicating with the Public through the Media 43
Five Utilizing Technology in Policy Practice 60
Six Essentials of Interest Group Politics: Coalition Building and Task Force Development 83
Seven Essentials of Community-Based Policy Practice 104
Eight Essentials of Legislative Policy Practice 125
Nine Monitoring the Bureaucracy and Creating Change within Organizations 151
Ten Essentials of Judicial Policy Practice 171
References 191
Index 197
Reviews
"Rocha's book…makes an important contribution to the literature and knowledge base. [It] is ideal for students and undergraduate- and graduate-level policy practice classes, faculty, nonprofit professionals, and social work practitioners." (Journal of Community Practice, 2009)
What's New
•  Provides specific tactics for policy practice and instructions on how to implement them at several different organizational and policy levels.
•  Features popular Essentials format of callout boxes and test yourself questions. 
•  Unique format covers the entire process in a concise, easy to grasp yet thorough manner.