Essentials of Treatment Planning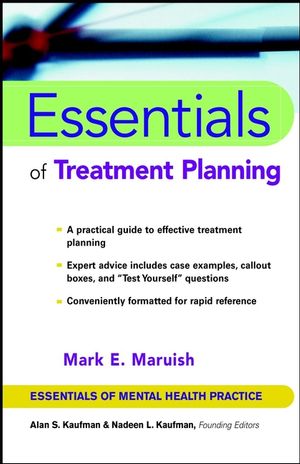 Essentials of Treatment Planning
ISBN: 978-0-471-43042-1 November 2002 256 Pages
Description
* A practical guide to effective treatment planning
* Expert advice includes case examples, callout boxes, and "TestYourself" questions
* Conveniently formatted for rapid reference

Improve patient care through better treatment planning andmonitoring

Essentials of Treatment Planning presents a clear andconcise approach to the development and use of treatment plans inbehavioral health care settings. This nuts-and-bolts guide coverssuch essential material as the role and benefits of treatmentplanning in a clinical setting, methods for conductingcomprehensive patient assessments, the use of assessmentinformation to develop the basis of individual treatment plans, andstrategies for ongoing evaluations and revisions of treatmentplans.

Essentials of Treatment Planning guides you in how todevelop and use treatment plans to strengthen the entire treatmentprocess. An important component in documentation, accuratetreatment plans provide such benefits as: meeting theaccountability requirements of managed behavioral health careorganizations; allowing for more efficient coordination of carewith other health care professionals; and facilitating bettercommunication with outside reviewers. Mental health professionalsmay gain the additional security of protection from certain typesof litigation.

As part of the Essentials of Mental Health Practiceseries, this book provides the information mental healthprofessionals need to practice knowledgeably, efficiently, andethically in today's behavioral health care environment. Eachconcise chapter features numerous callout boxes highlighting keyconcepts, bulleted points, and extensive illustrative material, aswell as "Test Yourself" questions that help you gauge and reinforceyour grasp of the information covered.
Series Preface
Introduction
Patient Assessment
Contributions of Psychological Testing to Clinical Assessment and Treatment Planning
Case Formulation
Developing a Treatment Plan
Monitoring Treatment Progress: Implications for Treatment Planning
References
Annotated Bibliography
Index
About the Author
"Highly recommend this book as a concise, well-crafted overview ofthe subject pf planning mental health treatment." (PsychiatricServices, March 2003)
Includes case examples, call-out boxes, and "Test Yourself" questions.
Helpful index includes specific instruments to assist in treatment planning and technology for successful interventions.
Author is a leading figure in treatment planning research practice.