Essentials of Vascular Laboratory Diagnosis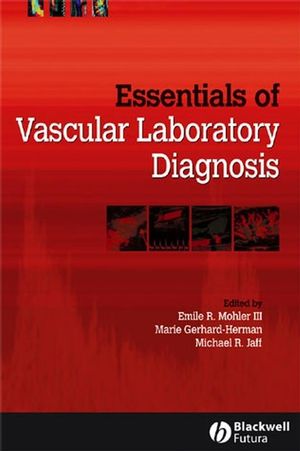 Essentials of Vascular Laboratory Diagnosis
ISBN: 978-1-405-10382-4 August 2005 Wiley-Blackwell 272 Pages
Description
This highly practical diagnostic tool is an indispensable resource for both the office and the noninvasive cardiovascular laboratory.
The accompanying CD contains images and video-clips displaying the dynamic aspects of vascular pathology to aid diagnosis and learning. Each image can be enlarged to enable the user to fully discern the main features, and for ease, the CD can be searched by image type, condition/disease or techniques.
Table of contents
List of Contributors.
Foreword.
Preface.
Part I: Principles and Instrumentation.
Chapter 1. Principles of Vascular Laboratory testing (Marie Gerhard-Herman).
Chapter 2. Instrumentation (Michael R. Jaff and Emile R. Mohler III).
Part II: Cerebrovascular.
Chapter 3. Neurosonology (Eric Edward Smith, Karen Lisa Furie, Ferdinando S. Buonanno, Madhu B. Vijayappa and J. Philip Kistler).
Chapter 4. Extracranial Carotid and Vertebral Artery Evaluation (Marie Gerhard-Herman).
Part III: Aorta.
Chapter 5. Thoracic Aorta Imaging (Paul A. Tunick and Itzhak Kronzon).
Chapter 6. Abdominal Aorta Imaging (Emile R. Mohler III).
Part IV: Renal and Visceral.
Chapter 7. Renal Artery Duplex Ultrasonography (Michael R. Jaff).
Chapter 8. Visceral Duplex Ultrasonography (Thanila A. Macedo).
Part V: Extremity Arterial.
Chapter 9. Segmental Pressures and Pulse Volume recordings (Emile R. Mohler III).
Chapter 10. Peripheral Arterial Ultrasonography (Marie Gerhard_Herman and Emile R. Mohler III).
Chapter 11. Thoracic Outlet Evaluation (Edward Y. Woo, Julia T. Davis an Jeffrey P. Carpenter).
Part VI: Acquired and Congenital Malformations.
Chapter 12. Complications of Femoral Arterial Vascular Access (Itzhak Kronzon and Paul A. Tunick).
Chapter 13. Doppler of the Hemodialysis Fistula (Mark E. Lockhart and Michelle L. Robbin).
Part VII: Venous.
Chapter 14. Upper Extremity Venous Ultrasonography (Marie Gerhard_Herman).
Chapter 15. Lower Extremity Venous Ultrasonography (John Gocke).
Part VIII: CTA and MRA of the Vascular System.
Chapter 16. Computerized Tomographic Angiography (Corey K. Goldman).
Chapter 17. Magnetic Resonance Imaging (Sanjay Rajagopalan).
Appendix 1: Appropriate ICD-9 Codes for Vascular Laboratory Tests.
Appendix 2: Example of Venous Duplex Protocol.
Index.
Reviews
"The purpose is to present an updated overview of the modern methods used in the diagnosis of peripheral vascular diseases. The authors have accomplished this goal in a concise and instructive manner" (Samer F Najjar, MD, @Doody's Review Service)
Features



The first practical diagnostic tool written by vascular medicine specialists and cardiologists for cardiovascular specialists responsible for the care of patients with peripheral vascular disease



Reflects the expanding role of the cardiologist in the diagnosis of patients with peripheral vascular diseases



Includes a CD with still images and video-clips to aid in the diagnostic techniques used in the vascular diagnostic laboratory