Essentials of Venture Capital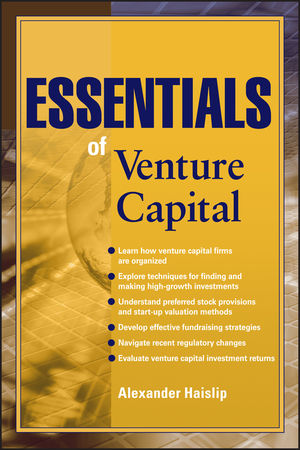 Essentials of Venture Capital
ISBN: 978-1-118-38632-3
Mar 2012
320 pages
Description
The first comprehensive guide for mastering venture capital
Essentials of Venture Capital is your guide to understanding how venture capital and technology finance works from the inside out. Author Alexander Haislip easily explains the most complex concepts in venture capital and how the business is evolving to meet modern market needs. He illuminates the opaque industry that drives innovation in Silicon Valley and beyond.
Learn how venture capital firms are organized and managed
Develop techniques for fundraising and making high-growth investments
Understand preferred stock provisions and startup valuation methods
Navigate recent regulatory changes and evaluate investment returns
The author draws on more than half a decade of experience and interviews with high-level investors in the U.S. and abroad. Whether you are contemplating a career in this industry, hoping to raise money for an entrepreneurial endeavor, or are already a seasoned veteran of venture finance, the book's insights and real-world examples will cement your understanding. Essentials of Venture Capital is the first comprehensive book to explain venture capital, how it is changing and what it will look like in the future.
Preface.
Acknowledgements.
Chapter 1: Industry Overview.
What is Venture Capital?
How Venture Capital Works.
Performance Expectations.
Venture Capital in Crisis.
Summary.
Notes.
Chapter 2: Careers and Organization.
Launching a Career.
Nurturing Your Career as a Venture Capitalist.
Firm Structure and Organization.
Planning for the Future.
Summary.
Notes.
Chapter 3: Fundraising.
Fundraising is a Venture Capitalist's Number One Priority.
What Limited Partners Want.
Working with Limited Partners.
Why Invest in Funds That Lose Money?
First Time Funds.
Bigger Funds.
The Future of Fundraising.
Summary.
Notes.
Chapter 4: Investing Basics.
What Makes a Good Deal?
Macroeconomics of Investing.
Investment Process.
Stock Classifications.
Typical Preferred Stock Clauses.
Stock During Different Stages of Development.
Syndication.
Valuation.
Summary.
Notes.
Chapter 5: Finding Investments.
Gathering Opportunities.
Hunting for Investments.
Growing Your Own Investments.
Alternative Methods.
Missed Opportunities.
Summary.
Notes.
Chapter 6: Getting the Money Back.
Gains from Investment.
Going Public.
Getting Acquired.
The IPO Crisis.
Solving the IPO Problem.
Are Fewer IPOs a Bad Thing?
New Strategies and Adaptations for Liquidity.
Summary.
Notes.
Chapter 7: Booms, Bubbles & Busts.
Riding the Waves.
Boom Beginnings.
Bubbles.
Busts.
Summary.
Notes.
Chapter 8: Going Global.
Strategies for Foreign Investing.
Venture Capital Outside the United States.
Israel.
China.
India.
Russia.
Europe.
Rest of the World.
Summary.
Notes.
Index.