Essentials of Veterinary Bacteriology and Mycology, 6th Edition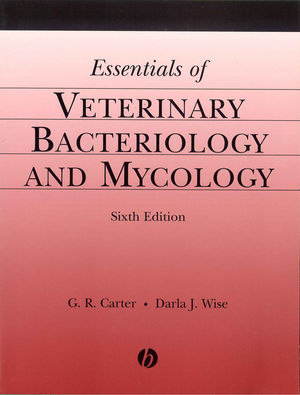 Essentials of Veterinary Bacteriology and Mycology, 6th Edition
ISBN: 978-0-813-81179-6
Dec 2003, Wiley-Blackwell
290 pages
Description
The sixth edition of the popular Essentials of Veterinary Bacteriology and Mycology provides the latest information on all facets of the microbial pathogens of animals and everything required for an introductory course in veterinary bacteriology and mycology. This book includes the basic characteristics of bacteria and fungi with two chapters on molecular biology and genetics and their applications. Handy glossaries are at the end of most chapters to aid comprehension.


Essentials of Veterinary Bacteriology and Mycology also deals with microbial pathogens of animals and the diseases they cause. Pathogenic bacteria are discussed in the order in which they occur in the latest molecular genetic (Bergey's Manual of Systematic Bacteriology) classification. This book is the foremost text in veterinary microbiology and continues to fill an important niche in veterinary education
Preface.
I. INTRODUCTORY BACTERIOLOGY.
1. Morphology and Classification of Bacteria and Archaea.
2. Bacterial Nutrition and Growth.
3. Bacterial Metabolism.
4. Microbial Molecular Genetics.
5. Genetic Transfer, Recombination and Genetic Engineering.
6. Sources and Transmission of Infectious Agents.
7. Host Parasite Relationships.
8. Antimicrobial Chemotherapy.
9. Sterilization and Disinfection.
10. Diagnostic Veterinary Bacteriology and Mycology: An Overview.
II. BACTERIA.
11. Rickettsialles.
12. Bartonella and Brucella.
13. Burkholderia, Bordetella and Taylorella.
14. Francisella and Coxiella.
15. Pseudomonas and Moraxella.
16. Enterobacteriaceae I.
17. Enterobacteriaceae II: Salmonella and Yersinia.
18. Actinobacillus and Haemophilus.
19. Pasteurella and Mannheimia.
20. Lawsonia, Arcobacter, Campylobacter, and Helicobacter.
21. Clostridium.
22. Mycoplasmas.
23. Erysipelothrix and Bacillus.
24. Streptococcus.
25. Listeria.
26. Staphylococcus.
27. Actinobaculum, Actinomyces and Arcanobacterium.
28. Dermatophilus and Corynebacterium.
29. Mycobacterium.
30. Nocardia and Rhodococcus.
31. Chlamydia.
32. Borrelia, Treponema, Brachyspira and Leptospira.
33. Non-spore-forming Anaerobic Bacteria.
34. Miscellaneous Potential Pathogens.
III FUNGI.
35. Introductory Mycology.
36. Dermatophytosis.
37. Infections Caused by Yeasts and Yeast-Like Fungi.
38. Subcutaneous and Inoculation Mycoses.
39. Respiratory and Systemic Mycoses.
Cummulative Glossary.
Index


Provides the latest information on all facets of the microbial pathogens of animals of veterinary interest;


Introduces the basic characteristics of bacteria and fungi, their implications for antimicrobial therapy and gives detailed descriptions of the major genera of pathogenic bacteria and fungi;


Includes case reports and descriptions of outbreaks of infectious disease, as well as a number of references listed at the end of each chapter and a glossary of terms.