Essentials of WNV Assessment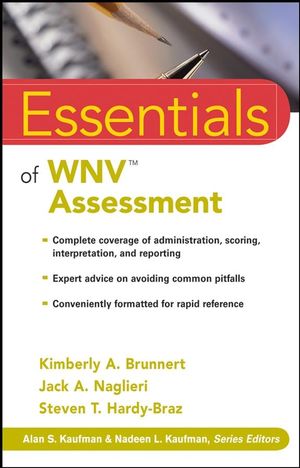 Essentials of WNV Assessment
ISBN: 978-0-470-46728-2 December 2008 224 Pages
Description
Essentials of WNV Assessment provides practitioners with practical, step-by-step advice for administering, scoring, and interpreting the Wechsler Nonverbal Scale of Ability (WNV), a nonverbal assessment used to assess a wide variety of individuals. Written by Kimberly Brunnert, Jack Naglieri, and Steven Hardy-Braz, the test is especially well suited for those who are not proficient in English, such as young children, recent immigrants, ESL students, and the deaf and hard of hearing. This essential guide provides you with illuminating case reports and valuable advice on its clinical applications.
Series Preface xi
One Introduction and Overview 1
Two How toAdminister theWNV 13
Three How to Score theWNV 33
Four Interpretation of theWNV 53
Five Strengths andWeaknesses 73
Six Clinical Applications of theWNV 85
Seven Illustrative Case Reports 99
References 191
Annotated Bibliography 195
Index 197
About the Authors 203
This is the author team to write this book, as Jack Naglieri is the author of the WNV, which published in the fall of 2006.

The only resource, other than the manual available from the test publisher (Harcourt Assessment), for practical, step-by-step instruction on accurately and effectively administering and scoring the WNV.

Utilizes the popular Essentials format and includes handy features such as "Don't Forget" boxes, "Rapid References," and "Test Yourself" questions at the end of each chapter.