Establishing a Heart Failure Program: The Essential Guide, 3rd Edition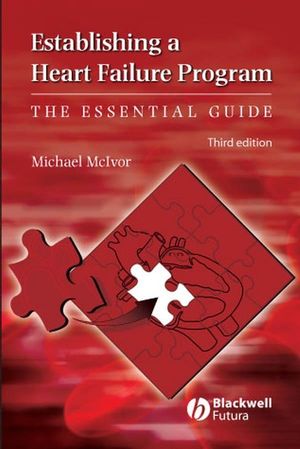 Establishing a Heart Failure Program: The Essential Guide, 3rd Edition
ISBN: 978-0-470-69257-8
Apr 2008, Wiley-Blackwell
176 pages
Description
". . . every critical examination of HF therapy in the United States has documented that we are not using all the weapons in our arsenal. We know what works, yet we are not systematically applying these proven therapies."

-- from the Introduction
If you are interested in a better way to treat heart failure, this book is for you. Dr. Michael McIvor – who has taught thousands of healthcare professionals how to effectively care for patients with chronic HF through CME symposia – takes a logical, step-by-step approach to setting up and operating the kind of program that reduces hospital admissions and improves patient care.

Establishing a Heart Failure Program: The Essential Guide answers the different questions posed by physicians, nurse practitioners, nurses, and hospital administrators, all of whom need to work as a team to achieve success. The three major sections of the book address:



Taking the first steps toward building your heart failure program - developing a business plan, choosing your model of care, and making accurate financial projections

Assembling the pieces of your program – managers, front line staff, and the physical facility

Day-to-day operations
A companion website presents forms you can download and use in your own heart failure center. Drawing from experience, Dr. McIvor helps you avoid common problems by identifying potential problems and sharing advice that has proven effective to your colleagues. He gives you the essential tools – unavailable elsewhere – to set up and maintain a heart failure program that achieves superior clinical outcomes.
Acknowledgements.
Introduction.
1 Is a Heart Failure Program the Right Choice?.
2 A Formula for the Success of Your Heart Failure Program.
Section I Taking the First Steps Toward Building Your Heart Failure Program.
3 First Steps: A Business Plan for Your Heart Failure Program.
4 First Steps: Choosing Your Model of Care.
5 First Steps: A Global View of the Financial Projections for Your Heart Failure Program.
6 First Steps: A Heart Failure Program Pro Forma.
Section II Assembling the Pieces of Your Program.
7 Assembling the Pieces: The Managers of Your Program.
8 Assembling the Pieces: The Front Line Staff.
9 Assembling the Pieces: The Physical Facility.
Section III Day-to-Day Operations.
10 Baseline Assessments.
11 Heart Failure Clinic Follow Up Visits.
12 Medical Treatment Protocols.
13 Telemanagement Algorithms.
14 Advanced Therapies.
15 Positioning Your Heart Failure Program as a Center of Expertise.
About the Author.
Index
● A unique reference offering information on developing a program that will reduce hospitalizations, optimize medical therapy, and enhance patient quality of life
● Answers practitioners and administrators questions
● Includes: determining the staffing and physical facilities programs will need; delineate management and day-to-day staff responsibilities; identifying clinical and financial benchmarks for measuring success and positioning programs for success in the community