Estate Planning For Dummies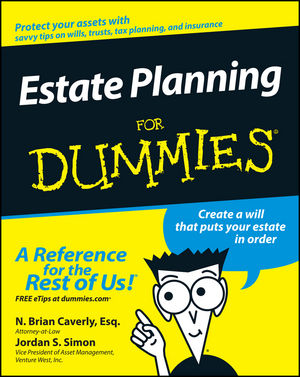 Estate Planning For Dummies
ISBN: 978-1-118-05395-9 March 2011 384 Pages
Description
If you're like most people, you want to be sure that, once you've passed on, no more of your property and money will be lost to the government than is absolutely necessary. You want to know that you'll be leaving your heirs your assets and not your debts. You want to be absolutely certain that your will is ship-shape, your insurance policies are structured properly, and that every conceivable hole in your estate plan has been filled. And most of all, you'd like to do all of this without driving yourself crazy trying to make sense of the complicated jargon, jumble of paperwork, and welter of state and federal laws involved in the estate planning process.
Written by two estate planning pros, this simple, easy-to-use guide takes the pain out of planning for your ultimate financial future. In plain English, the authors walk you step-by-step through everything you need to know to:
Put your estate into order
Minimize estate taxes
Write a proper will
Deal with probate
Set up trusts
Make sure your insurance policies are structured properly
Plan for special situations, like becoming incompetent and pet care 
Craft a solid estate plan and keep it up-to-date
Don't leave the final disposition of your estate up to chance and the whims of bureaucrats. Estate Planning For Dummies gives you the complete lowdown on:
Figuring out what you're really worth
Mastering the basics of wills and probate
Using will substitutes and dodging probate taxes
Setting up protective trusts, charitable trusts, living trusts and more
Making sense of state and federal inheritance taxes
Avoiding the generation skipping transfer tax
Minimizing all your estate-related taxes
Estate planning for family businesses
Creating a comprehensive estate plan
Straightforward, reader-friendly, easy-to-use, Estate Planning For Dummies is the ultimate guide to planning your family's future.
Table of contents
Introduction.
Part I: Estate Planning Fundamentals.
Chapter 1: Congratulations: You Have an Estate!
Chapter 2: Bean Counting — Figuring Out What You're Worth.
Part II: Where There's a Will, There's a Way.
Chapter 3: Understanding the Basics of Wills.
Chapter 4: Tied Hands and Helping Hands: What You Can and Can't Do with Your Will.
Chapter 5: Probate: Top of the Ninth for Your Estate.
Chapter 6: Dodging Probate: Saving Time and Money with a Will Substitute.
Part III: Matters of Trust.
Chapter 7: Understanding Trusts.
Chapter 8: Trusts You May Want to Trust — or Not.
Chapter 9: Working a Trust Into Your Estate Plan.
Part IV: Life, Death, and Taxes.
Chapter 10: Preparing for the Tug of War with the Taxman.
Chapter 11: The Gift Tax: Isn't Giving a Gift Enough?
Chapter 12: Skipping Around the Generation Skipping Transfer Tax.
Chapter 13: Paying or Not Paying the Death Tax: That's the Question.
Chapter 14: Planning to Minimize All Your Estate-Related Taxes.
Part V: Estate Planning for Family Businesses.
Chapter 15: Grasping the Basics of Estate Planning for Family Businesses.
Chapter 16: Transferring Ownership and Paying Estate Taxes in a Family Business.
Part VI: Crafting a Comprehensive Estate Plan.
Chapter 17: Factoring Insurance into Your Estate Plan.
Chapter 18: Connecting Your Retirement Funds to Your Estate Plans.
Chapter 19: Estate Planning in Exceptional Situations.
Part VII: The Part of Tens.
Chapter 20: Ten Questions to Get You Rolling on Your Estate Plan.
Chapter 21: Avoiding Ten Common Mistakes and Problems in Your Will.
Chapter 22: Ten Estate-Planning Resources on the Internet.
Index.