Ethical Hacking and Web Hacking Handbook and Study Guide Set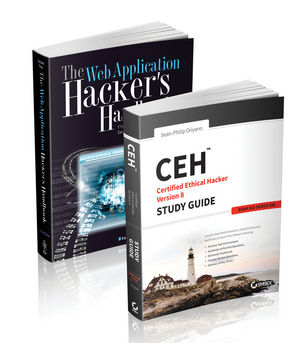 Ethical Hacking and Web Hacking Handbook and Study Guide Set
ISBN: 978-1-119-07217-1
Nov 2014
768 pages
Product not available for purchase
Description
Save almost 30% on this two book set.
CEHv8: Certified Ethical Hacker Version 8 Study Guide by Sean-Philip Oriyano is the book you need when you're ready to tackle this challenging exam. Security professionals remain in high demand. The Certified Ethical Hacker is a one-of-a-kind certification designed to give the candidate a look inside the mind of a hacker. This study guide provides a concise, easy-to-follow approach that covers all of the exam objectives and includes numerous examples and hands-on exercises. Coverage includes cryptography, foot printing and reconnaissance, scanning networks, enumeration of services, gaining access to a system, Trojans, viruses, worms, covert channels, and much more. A companion website includes additional study tools such as a practice exam and chapter review questions and electronic flashcards
The Web Application Hacker's Handbook: Finding and Exploiting Security Flaws, 2nd Edition by Dafydd Stuttard and Marcus Pinto reveals the latest step-by-step techniques for attacking and defending the range of ever-evolving web applications. You'll explore the various new technologies employed in web applications that have appeared since the first edition and review the new attack techniques that have been developed, particularly in relation to the client side.
Reveals how to overcome the new technologies and techniques aimed at defending web applications against attacks that have appeared since the previous edition
Discusses new remoting frameworks, HTML5, cross-domain integration techniques, UI redress, framebusting, HTTP parameter pollution, hybrid file attacks, and more
Features a companion web site hosted by the authors that allows readers to try out the attacks described, gives answers to the questions that are posed at the end of each chapter, and provides a summarized methodology and checklist of tasks
Together these two books offer both the foundation and the current best practices for any professional in the field of computer security. 
Individual Volumes
CEH: Certified Ethical Hacker Version 8 Study Guide
by Sean-Philip Oriyano
US $49.99
The Web Application Hacker's Handbook: Finding and Exploiting Security Flaws, 2nd Edition
by Dafydd Stuttard, Marcus Pinto
US $50.00