Ethical Issues in Behavioral Research: A Survey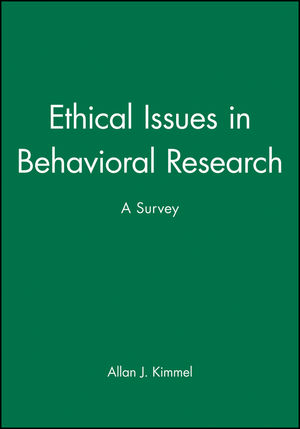 Ethical Issues in Behavioral Research: A Survey
ISBN: 978-1-557-86395-9 June 1996 Wiley-Blackwell 428 Pages
Description
This book seeks to reflect the growing level of concern worldwide regarding the importance of ethical issues within the conduct of behavioral sciences research. Each chapter includes worldwide case studies of ethically controversial investigations which encourage students to more in-depth study.
Table of contents
List of Boxes.
List of Tables.
Foreword.
Preface.
Acknowledgments.
1. Introduction: Why Research Ethics?.
2. Ethical Principles in Behavioral Research: Professional and Governmental Guidelines.
3. Ethical Issues in the Conduct of Human Subject Research I: Laboratory Research.
4. Methodological Issues in the Use of Deception.
5. Ethical Issues in the Conduct of Human Subject Research II: Field Research.
6. Ethical Issues in the Conduct of Human Subject Research III: Applied Research.
7. Ethical Issues in the Recruitment and Selection of Research Subjects.
8. Ethical Issues in Research With Animals.
9. Ethical Review and the Communication of Results.
Appendices.
References.
Indices.
Reviews
"Kimmel provides a helpful overview of the historical and social contexts in which attention to human service ethics has long preceded attention to research ethics ... Appropriate for undergraduate and graduate students as well as faculty and professionals in social science programs."
Choice
"It is scholarly, fascinating, and very much up-to-date. I will certainly be using it in my teaching and in my research." Professor Robert Rosenthal, Harvard University
"Faced with a daunting array of human subjects regulations and the expanding role of review boards, new investigators will find Kimmel's book an invaluable guide. Interspersed with a broad range of case studies, this book is both instructive and highly informative - a thoroughly captivating introduction to the ethics of research with human subjects in the 1990s and beyond." Professor Ralph L. Rosnow, Temple University
Features
Uses case studies to highlight important discussion points
Includes suggestions for further reading and a full bibliography
Balances theory and discussion to guide students towards more in-depth study
Discusses a range of ethical studies and guidelines from the US, UK and Europe.