Ethical Issues in Behavioral Research: Basic and Applied Perspectives, 2nd Edition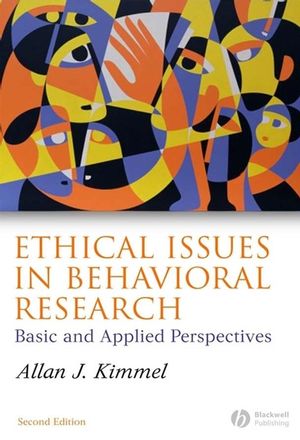 Ethical Issues in Behavioral Research: Basic and Applied Perspectives, 2nd Edition
ISBN: 978-1-405-13439-2
Feb 2007, Wiley-Blackwell
428 pages
Description
With concerns rising over the ethical dimensions of behavioral research and the developments in ethical codification and the research review process, Ethical Issues in Behavioral Research looks at the research community's response to the ethical challenges that arise in the application of research approaches.



Focuses on ethical and legal aspects of participant research on the internet

Presents a practical framework for ethical decision making

Discusses the revised ethical principles and code of conduct of the American Psychological Association

A new chapter detailing ethical issues in marketing and opinion research, including a contrast of market and academic research and a summary of the author's research comparing ethical trends in psychology and marketing fields

Offers in-depth coverage of recent ethical developments outside of the United States including an update of the survey of the international codes of ethics and recommendations for avoiding ethical pitfalls encountered in cross-national research

Includes a list of useful internet links devoted to ethical issues in research

Includes a Foreword by Herbert C. Kelman
List of Boxes.
List of Figures.
List of Tables.
Foreword.
Preface to the Second Edition.
Preface to the First Edition.
Acknowledgments.
1. Introduction to Research Ethics.
2. Ethical Principles in Behavioral Research: Professional and Governmental Guidelines.
3. Ethical Issues in the Conduct of Laboratory Research.
4. Methodological Issues in the Use of Deception.
5. Ethical Issues in the Conduct of Field Research.
6. Applied Research I: Therapeutic and Organizational Research.
7. Applied Research II: Marketing and Survey Research.
8. Recruitment and Selection of Research Subjects.
9. Ethical Issues in Research with Animals.
10. Ethical Review and the Communication of Results.
Appendix 1. Annotated List of Web Links to Ethics Codes.
Appendix 2. Psychology Codes of Ethics: An International Survey.
Appendix 3. Sample Research Application and Informed Consent Forms.
References.
Subject Index.
Name Index
"The great strength of
Ethical Issues
is that is a truly practical guide for researchers. It addresses the day-today dilemmas that researchers struggle with when trying to balance scientific rigour against ethical responsibilities.... If you think ethical review is an annoyingly bureaucratic hurdle that hampers or compromises your research efforts, I dare you to read it.
Ethical Issues
might just change your mind!" (
Psychology Learning and Teaching
, Autumn 2008)
"This book deserves to be read widely by researchers who work with human participants or subjects. This book provides valuable insights about the ethical standards of research. People who work with ethics committees will find this a beneficial … .While his central focus is on behavioral research, the book discusses ethical issues underpinning much non-medical research and thus covers an extensive range of issues … . The reference list provided is among the most comprehensive I have seen in this field, and is fairly up-to-date, which in itself this is a very valuable resource." (Metapsychology, November 2008)


Focuses on ethical and legal aspects of participant research on the internet

Presents a practical framework for ethical decision making

Discusses the revised ethical principles and code of conduct of the American Psychological Association

A new chapter detailing ethical issues in marketing and opinion research, including a contrast of market and academic research and a summary of the author's research comparing ethical trends in psychology and marketing fields

Offers in-depth coverage of recent ethical developments outside of the United States including an update of the survey of the international codes of ethics and recommendations for avoiding ethical pitfalls encountered in cross-national research

Includes a list of useful internet links devoted to ethical issues in research