Ethics For Dummies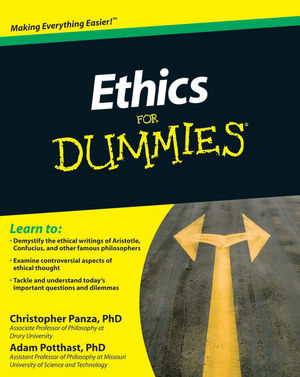 Ethics For Dummies
ISBN: 978-0-470-65044-8 April 2010 384 Pages
Description
An easy-to-grasp guide to addressing the principles of ethics and applying them to daily life
How do you define ""good"" versus ""evil?"" Do you know the difference between moral ""truth"" and moral relativity? Whether or not you know Aristotle from Hume, Ethics For Dummies will get you comfortable with the centuries-old study of ethical philosophy quickly and effectively!
Ethics For Dummies is a practical, friendly guide that takes the headache out of the often-confusing subject of ethics. In plain English, it examines the controversial facets of ethical thought, explores the problem of evil, demystifies the writings and theories of such great thinkers through the ages as Aristotle, Confucius, Descartes, Kant, Nietzsche, and so much more.
Provides the tools to tackle and understand today's important questions and ethical dilemmas
Shows you how to apply the concepts and theories of ethical philosophy to your everyday life
Other title by Panza: Existentialism For Dummies
Whether you're currently enrolled in an ethics course or are interested in living a good life but are vexed with ethical complexities, Ethics For Dummies has you covered!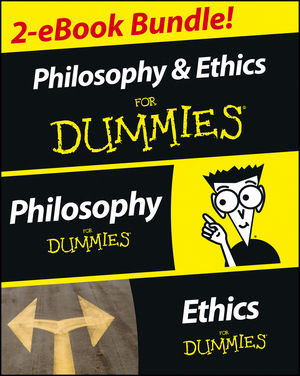 This item: Ethics For Dummies
Original Price:$27.98
Purchased Together:$18.99
save $8.99
Introduction.
Part I: Ethics 101: Just the Basics, Please.
Chapter 1: Approaching Ethics: What Is It and Why Should You Care?
Chapter 2: Butting Heads: Is Ethics Just a Matter of Opinion?
Part II: Uncovering the Roots of Ethics.
Chapter 3: Human Nature and Ethics: Two Big Questions.
Chapter 4: Exploring Connections between Ethics, Religion, and Science.
Chapter 5: Seeing Ethics as Harmful: Three Famous Criticisms.
Part III: Surveying Key Ethical Theories.
Chapter 6: Being an Excellent Person: Virtue Ethics.
Chapter 7: Increasing the Good: Utilitarian Ethics.
Chapter 8: Doing Your Duty: The Ethics of Principle.
Chapter 9: Signing on the Dotted Line: Ethics as Contract.
Chapter 10: The Golden Rule: Common Sense Ethics.
Chapter 11: Turning Down the Testosterone: Feminist Care Ethics.
Part IV: Applying Ethics to Real Life.
Chapter 12: Dealing with Mad Scientists: Biomedical Ethics.
Chapter 13: Protecting the Habitat: Environmental Ethics.
Chapter 14: Serving the Public: Professional Ethics.
Chapter 15: Keeping the Peace: Ethics and Human Rights.
Chapter 16: Getting It On: The Ethics of Sex.
Chapter 17: Looking Out for the Little Guy: Ethics and Animals.
Part V: The Part of Tens.
Chapter 18: Ten Famous Ethicists and Their Theories.
Chapter 19: Ten Ethical Dilemmas Likely to Arise in the Future.
Index.