Ethics and Corporate Social Responsibility in the Meetings and Events Industry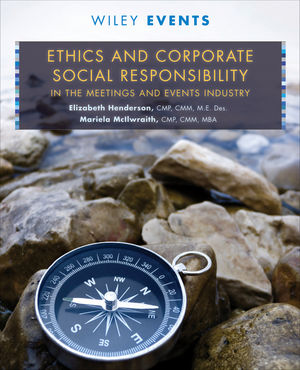 Ethics and Corporate Social Responsibility in the Meetings and Events Industry
ISBN: 978-1-118-54386-3
Sep 2012
320 pages
Description
Ethics and Corporate Social Responsibility in the Meetings and Events Industry is a comprehensive roadmap that prepares event professionals for the economic, environmental, and social challenges ahead, and transforms the industry for the long run. This timely text inspires us to view Corporate Social Responsibility, ethics, and sustainability as no longer just best practices, but as business standards. With its practical tools and insights, readers are compelled to build an industry where meetings and events contribute positively and ethically to communities and cultures.
Ethics and Corporate Social Responsibility in the Meetings and Events Industry presents a wide range of topics, bringing insights from environmental science to corporate responsibility.Intended to build sustainable leaders in the industry, this book offers the knowledge to get started and the momentum to continue.
Foreword vii
Series Editor Foreword xi
Preface xiii
Acknowledgments xvii
CHAPTER 1 Introduction to Corporate Social Responsibility and Ethics 3
CHAPTER 2 Business Ethics and the Meetings and Events Industry 29
CHAPTER 3 Strategies for Sustainable Meetings 49
CHAPTER 4 Social Responsibility and Culture 73
CHAPTER 5 Meetings, Events, and Environmental Science 93
CHAPTER 6 Shared Value and Strategic Corporate Responsibility 117
CHAPTER 7 Communication, Marketing, and Public Relations 141
CHAPTER 8 Sustainable Supply Chains for Meetings and Events 163
CHAPTER 9 Sustainability Measurement and Evaluation 189
CHAPTER 10 Sustainability Reporting for Meetings and Events 217
CHAPTER 11 Risk Management and Legal Considerations 247
CHAPTER 12 Backcasting and Scenario Planning for a Sustainable Meetings and Events Industry 269
Glossary 291
Index 297
In addition to Group Projects, Activities, Recommended Readings, and Resources, hallmark features include:
Backcasting methodologies and scenario planning to envision the steps to develop a sustainable future.
An overview of environmental impacts and strategies to measure, reduce, eliminate, or mitigate these.
Strategies for sustainable and ethical promotion, marketing, and communication.
Measurements, evaluation techniques, and reporting methodologies to improve and track performance.