Ethics and International Relations, 2nd Edition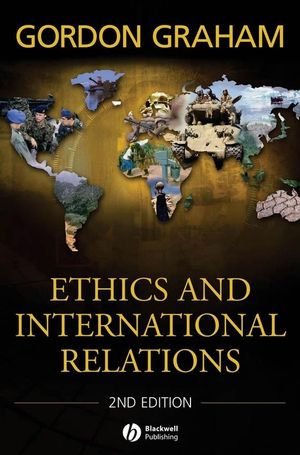 Ethics and International Relations, 2nd Edition
ISBN: 978-1-405-15938-8 February 2008 Wiley-Blackwell 240 Pages
Description
Ethics and International Relations
, Second Edition, offers a comprehensive introduction to the philosophical issues raised by international politics. Presupposing no prior philosophical knowledge and deliberately avoiding the use of technical language, it is ideally suited for political philosophy, applied ethics and international relations courses. Revised and updated, new material includes coverage of the war on terror, the impact of globalization, and ideas of cosmopolitan governance.
Clearly and thoughtfully organized, it proceeds logically from general morality and international relations to issues surrounding just war theory and global justice
A crisp, analytical treatment presented with a student-sensitive approach and informed by real world issues
Covers a wide array of subtopics
Table of contents
Preface to the Second Edition.
1. The International Orders.
From Vienna to Versailles–The Rise of the Nation State.
The Challenge of Internationalism.
Sovereignty.
Federalism and the International 'State of Nature'.
The Law of Nature and Nations.
Summary.
2. Realism, Morality and Law.
The Hobbesian State of Nature.
Realism.
National Interest and Moral Responsibility.
Moralism and the Domestic Analogy.
Factual and Moral Disanalogy.
Legalism.
3. War.
Christian Attitudes to War.
The Case for Pacifism.
Just Wars.
Justice Ad Bellum.
Force and Violence.
Justice In Bello.
The Principle of Double Effect.
4. Weapons of Mass Destruction.
The Argument So Far.
Modern Warfare.
Consequentialism.
Deterrence.
Threats, Bluffs and Conditional Intentions.
Mutually Assured Destruction.
Summary.
5. Humanitarian Intervention.
Intervention and the Challenge to Legalism.
Autonomy and the Nation State.
Non-intervention and States as Persons.
Consequentialism and Non-intervention.
The Definition of Intervention.
Intervention and Just War Theory.
Intervention, the Rule of Law and the Duty to Intervene.
Summary.
6. Terrorists, Guerillas and War on Terror.
The Definition of Terror.
Freedom Fighters.
Terrorism.
Guerilla Warfare.
Torture and the War on Terrorism.
Summary.
7. North and South, Aid and Trade.
Absolute and Relative Poverty.
Poverty and Cost/Benefit Analysis.
Lifeboat Ethics.
Taking Stock of the Arguments.
Social Justice and Welfare Rights.
Basic Rights, National Boundaries and International Justice.
Aid and Trade: the World Bank and the WTO.
Summary.
8. Globalization, Cosmopolitanism and the Environment.
Globalization.
Cosmopolitanism and Subsidiarity.
Environmental Disaster.
Environmental Ethics.
Shallow and Deep Ecology.
The Gaia Hypothesis.
Globalization, Environment and International Relations.
Bibliography.
Index
Reviews
"Ethics and International Relations
is an excellent introduction to this important subject. With unusual clarity, Graham tackles all the main topics, from sovereignty to global warming, examining popular opinions and academic theories in a way that will bring newcomers quickly up to speed."
Terry Nardin, National University of Singapore
"It is highly accessible but does not duck the hard and often intractable questions of violence, poverty, injustice and trade." Times Higher Education Supplement<!--end-->
Features
Clearly and thoughtfully organized, it proceeds logically from general morality and international relations to issues surrounding just war theory and global justice
Revised and updated, new material includes coverage of the war on terror, the impact of globalization, and ideas of cosmopolitan governance
A crisp, analytical treatment presented with a student-sensitive approach and informed by real world issues
Covers a wide array of subtopics