Ethics and Law for School Psychologists, 7th Edition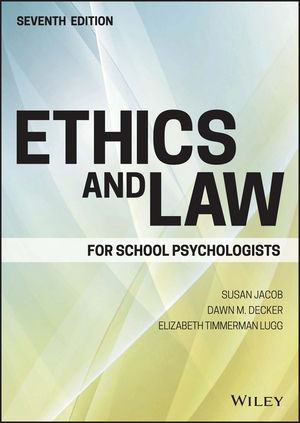 Ethics and Law for School Psychologists, 7th Edition
ISBN: 978-1-119-15706-9 August 2016 448 Pages
Description
Ethics and Law for School Psychologists is the single best source of authoritative information on the ethical and legal issues school psychologists face every day. Designed specifically to meet the unique needs of psychologists in school settings, this book includes the most up-to-date standards and requirements while providing an introduction to ethical codes, ethical decision making, and the legal underpinnings that protect the rights of students and their parents. This new seventh edition has been extensively updated with the latest research and changes to the law, with an increased focus on ethical-legal considerations associated with the use of digital technologies. Coverage includes new case law on privacy rights, electronic record keeping, the 2014 Standards for Educational and Psychological Testing, digital assessment platforms, the latest interpretations of the Individuals with Disabilities Education Act, and more.
Ethics texts for counseling and psychology are plentiful, and often excellent—but this book is the only reference that speaks directly to the concerns and issues specific to psychologists in school settings. Case vignettes, end-of-chapter questions, and discussion topics facilitate deeper insight and learning, while updated instructor's resources bring this key reference right into the classroom.
Keeping up with the latest research and legal issues is a familiar part of a psychologist's duties, but a practice centered on children in an educational setting makes it both critical and more complex. Ethics and Law for School Psychologists provides a central resource for staying up to date and delivering ethically and legally sound services within a school setting.
Preface xi
What's in the Book xi
What's Not in the Book xii
Seventh Edition Revisions xii
Disclaimers xiii
Cast of Characters xiv
Acknowledgments xv
Chapter 1 Ethics in School Psychology: An Introduction 1
Quality Control in School Psychology 1
What and Why of Professional Ethics 2
Ethics Training and Competencies 4
Codes of Ethics 8
Four Broad Ethical Principles 12
Ethical and Legal Decision Making 22
Unethical Conduct 26
Concluding Comments 29
Study and Discussion 29
Chapter 2 Law and School Psychology: An Introduction 33
The U.S. Constitution 33
Statutes and Regulations 40
Case Law 45
Summary 46
Legal Training for School Psychologists 46
Credentialing of School Psychologists 48
Lawsuits against Schools and School Psychologists 49
Concluding Comments 54
Study and Discussion 54
Chapter 3 Privacy, Informed Consent, Confidentiality, and Record Keeping 57
Privacy 57
Informed Consent to Establish a School Psychologist–Client Relationship 61
Confidentiality 66
Nondisclosure Laws and Privileged Communication 72
Record Keeping in the Schools 77
Concluding Comments 96
Study and Discussion 96
Chapter 4 Ethical-Legal Issues in the Education of Students with Disabilities under IDEIA 99
Education of Children with Disabilities: A Historical Perspective 99
Individuals with Disabilities Education Improvement Act 102
Infants and Toddlers with Disabilities 145
Concluding Comments 149
Study and Discussion 150
Chapter 5 Section 504 and the Americans with Disabilities Act 151
Section 504 151
Americans with Disabilities Act 164
Concluding Comments 166
Study and Discussion 166
Chapter 6 Ethical and Legal Issues in Psychoeducational Assessment 169
Testing versus Assessment 169
Preassessment Responsibilities 170
Assessment Planning 175
Information Gathering 183
Assessment Interpretation 184
Nondiscriminatory Assessment 187
Personality Assessment 191
Professional Competence and Autonomy 192
Computer-Assisted Psychoeducational Assessment 193
Concluding Comments 196
Study and Discussion 196
Chapter 7 Ethical and Legal Issues in School-Based Interventions 199
Multitiered Systems of Academic and Behavioral Support 199
Therapeutic Interventions within the Context of a School Psychologist–Client Relationship 208
Duty to Protect 211
Competence and Responsibility 223
Psychopharmacologic Interventions 224
Concluding Comments 226
Study and Discussion 227
Chapter 8 Indirect Services I: Ethical-Legal Issues in Working with Teachers and Parents 231
Consultation with Teachers 231
Special Issues in Working with Parents 236
Concluding Comments 244
Study and Discussion 245
Chapter 9 Indirect Services II: Special Topics in Systems-Level Consultation 247
Large-Scale Assessment Programs 248
Instructional Programs, Policies, and Practices 253
School Discipline 257
Discrimination, Harassment, and Bullying 266
Concluding Comments 272
Study and Discussion 272
Chapter 10 Research in the Schools: Ethical and Legal Issues 277
Competence, Responsibility, and Welfare of Participants 278
Informed Consent and Privacy 279
Exposure to Stress or Harm and Denial of Beneficial Treatment 285
Post-Data-Collection Responsibilities 286
Concealment and Deception 287
Research with Culturally and Linguistically Diverse Populations 291
Scientific Misconduct 292
Concluding Comments 292
Study and Discussion 293
Chapter 11 Ethical and Legal Issues in Supervision 295
Professional Standards for Supervision 296
Professional Disclosure Statement and Individualized Learning Plan 296
Ethical Principles and Supervision 298
Liability Issues 306
Concluding Comments 306
Study and Discussion 307
Epilogue: Ethics, Law, and Advocacy 309
Advocacy and a Complex Legal Landscape 310
Proactive Survival Strategies for Advocates 314
Developing an Ethical Practice 315
Concluding Comments 316
Appendix A National Association of School Psychologists Principles for Professional Ethics 2010 319
Introduction 319
Definition of Terms as Used in the Principles for Professional Ethics 322
Appendix B American Psychological Association Ethical Principles of Psychologists and Code of Conduct 341
Appendix C Table of Cases 365
Appendix D Table of Federal Legislation 371
Appendix E Frequently Used Acronyms 373
References 375
Author Index 405
Subject Index 000
Incorporates the latest research and professional literature including new case law and changes in federal education law.
Increased focus on ethical-legal considerations associated with the use of digital technologies by school districts, school psychologists, and school children.
Features numerous case vignettes, end-of-chapter questions, and topics for discussion.
Updated instructor's resources.
Classic text on ethics and law for school psychologists, newly revised to meet the needs ot today's student.
Includes numerous pedagogical features including case vignettes, end-of-chapter questions, and topics for discussion.
Accompanying web-based Instructor's Manual includes sample syllabi, recommended readings, discussion questions, handouts, and test questions.