Ethics for Psychologists, 2nd Edition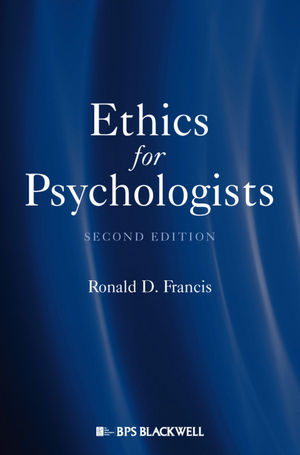 Ethics for Psychologists, 2nd Edition
ISBN: 978-1-405-18878-4 August 2009 Wiley-Blackwell 328 Pages
Description
Ethics for Psychologists, 2nd Edition is a comprehensive handbook covering the full range of ethical challenges that confront psychologists in practice and research
Written for all psychology practitioners and researchers
Addresses new concerns such as 'whistleblowing', quantifying ethics, and Internet-related issues
Features greatly expanded section of case studies, resolutions, and work exercises
Suitable for all English-speaking countries beyond just North America
Includes guidance on a variety of national ethics codes, including the European Meta-Code of Ethics and the UN Declaration of Human Rights 
Preface.
Acknowledgements.
Part I: Conceptual Issues in Ethics.
1. Background to Ethics.
2. Theories and Explanations.
3. Ethical Gradualism.
Part II: Principles and Codes.
4. Key Principles.
5. Codes and Covenants.
6. Legal Issues.
Part III: Practical Issues in Ethics.
7. Ethical Infrastructures.
8. Identifying the Client.
9. Research Ethics.
Part IV: Decision-Making Issues.
10. Broad Issues of Practice.
11. The Quantification of Ethics.
12. Decision Making.
13. Case Prescriptions.
14. Worked Cases.
15. Further Cases for Consideration .
Appendix I: The European Federation of Psychologists' Associations Meta-Code.
Appendix II: The United Nations Universal Declaration of Human Rights.
References.
Index
"At the same time, we conclude that a walk through this particular forest will provide readers with some interesting new knowledge, skill, and perspective . . . the breadth in the book is intriguing. For example, Francis takes an international perspective that encourages readers to broaden their cultural horizons. He also cites literature from other fields, such as business ethics, which provides additional context for psychologists." (The American Journal of Psychology, 1 March 2011)
From review of 1st edition:
"This book will prove an invaluable resource to those seeking a broad, cross-national ethical perspective that applies to psychologists across specialities." (Roz Shafran, Behaviour Research and Therapy, vol. 40, 2002)