Ethics for Psychotherapists and Counselors: A Proactive Approach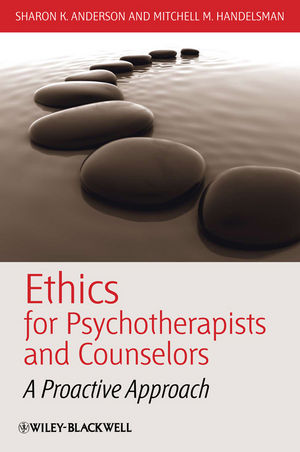 Ethics for Psychotherapists and Counselors: A Proactive Approach
ISBN: 978-1-444-35616-8 September 2011 Wiley-Blackwell 264 Pages
Description
Ethics for Psychotherapists and Counselors utilizes positive discussions accompanied by a variety of thought-provoking exercises, case scenarios, and writing assignments to introduce readers to all the major ethical issues in psychotherapy.
First book designed to engage students and psychotherapists in the process of developing a professional identity that integrates their personal values with the ethics and traditions of their discipline

Authors take a positive and proactive approach that encourages readers to go beyond following the rules and to strive for ethical excellence

Utilizes a variety of thought-provoking exercises, case scenarios, and writing assignments

Authors present examples from their own backgrounds to help clarify the issues discussed

Text emphasizes awareness of one's own ethical, personal, and cultural backgrounds and how these apply to one's clinical practice
Part One: Taking Stock.
1. Introduction.
2. Basics of Awareness: Knowing Yourself.
3. Basics of Awareness: Privilege and Social Responsibility.
4. The Process of Acculturation: Developing Your Professional Ethical Identity.
Part Two: The Nuts and Bolts of Psychotherapy Ethics.
5. The Ethical Culture of Psychotherapy.
6. "I Can't Believe It's Not Therapy!": Boundaries of the Psychotherapy Relationship.
7. Confidentiality: A Critical Element of Trust in the Relationship.
8. Informed Consent: The Three-Legged Stool.
9. Making the Most of Supervision.
10. Ending Psychotherapy: The Good, the Bad, and the Ethical.
Part Three: The Ethical Ceiling.
11. Putting It All Together: Toward Ethical Excellence.
Appendix A: Possible Information to be Shared With Clients.
Appendix B: Policy Areas.
References
"So how can ethics educators overcome this defensive and rule-oriented culture? Sharon Anderson and Mitchell Handelsman offer an excellent solution for students in undergraduate or beginning master's level graduate programs...Perhaps the most striking thing about this book is the way that Anderson and Handelsman manage to make the process of ethical acculturation, even the very process of learning to understand and internalize mental health ethics, fun...The authors clearly understand the need to foster an active learning process that includes self-awareness, self-reflection, discovery, and application. Thus, this book goes far beyond the provision of didactic material-something all too rare in ethics texts. It is clear that Anderson and Handelsman are accomplished teachers in that their writing style is lighthearted, good-humored, engaging, and, most important, deeply empathic." (American Journal of Psychology, 1 March 2011)
"It is useful in stressing those aspects of immersion into the ethics affective side of one's professional development that is not always present in more didactic texts." (PsycCRITIQUES, May 2010)
First book designed to engage students and psychotherapists in the process of developing a professional identity that integrates their personal values with the ethics and traditions of their discipline
Authors take a positive and proactive approach that encourages readers to go beyond following the rules and to strive for ethical excellence
Utilizes a variety of thought-provoking exercises, case scenarios, and writing assignments
Authors present examples from their own backgrounds to help clarify the issues discussed
Text emphasizes awareness of one's own ethical, personal, and cultural backgrounds and how these apply to one's clinical practice