Ethics in Finance, 2nd Edition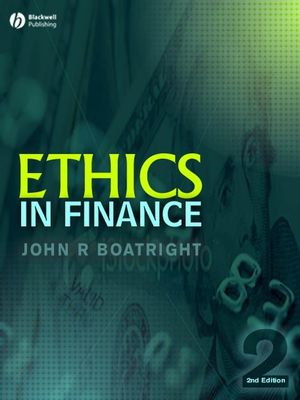 Ethics in Finance, 2nd Edition
ISBN: 978-1-444-32679-6
Dec 2014, Wiley-Blackwell
232 pages
Description
This second edition of the ground-breaking Ethics in Finance, is an up-to-date, valuable addition to the emerging field of finance ethics. Citing examples of the scandals that have shaken public confidence in the ethics of Wall Street, this text explains the importance of ethics the operation of financial institutions and in the personal conduct of finance professionals.

Focuses on practical issues that confront finance professionals and policy makers
Now includes discussion of issues in mutual funds and financial engineering, the independence of analysts at investment banks, and the bank's responsibility for the conduct of its clients
Features a new chapter on conflicts of interest in financial services, expanded treatment of ethical issues in IPOs, and a new discussion about the discarding of pension funds
Cites examples of the scandals that have shaken public confidence in Wall Street
Preface to the First Edition.
Preface to the Second Edition.
Acknowledgments.
Abbreviations.
1. Financial Ethics: An Overview.
The Need for Ethics in Finance.
Ethics and Financial Markets.
The Financial Services Industry.
Individuals in Organizations.
2. Theoretical Perspectives in Finance.
Equity and Efficiency.
Fiduciaries, Agents, and Professionals.
Agency Theory.
Conflict of Interest.
3. Ethical Issues in Financial Services.
Sales Practices.
Churning, Twisting, and Flipping.
Arbitration.
Personal Trading.
Mutual Funds.
4. Ethical Issues in Investment Decisions.
Bank Lending Practices.
Socially Responsible Investing.
Relationship Investing.
Investment and the New Finance.
5. Ethics in Financial Markets.
Insider and Program Trading.
The Ethics of Bankruptcy.
Hostile Takeovers.
6. The Financial Theory of The Firm.
Traditional Theories.
The Contractual Theory.
The Objective of the Firm.
The Stakeholder Challenge.
Index
Now includes discussion of issues in mutual funds and financial engineering, the independence of analysts at investment banks, and the bank's responsibility for the conduct of its clients
Features a new chapter on conflicts of interest in financial services, expanded treatment of ethical issues in IPOs, and a new discussion about the discarding of pension funds
"In this new edition Boatright provides broad coverage of the topic, encompassing financial markets, the financial service industry, and investment decisions made by corporate personnel and individuals. Boatright clearly explains the ethical issues but does not take a position, since it is the individual's obligation to make the ethical choice. A volume for all readers concerned with financial decision making. Extensive notes and index. Highly recommended." (Choice Reviews, December 2008)
A comprehensive overview of ethical issues in finance
Focuses on practical issues that confront finance professionals and policy makers
Now includes discussion of issues in mutual funds and financial engineering, the independence of analysts at investment banks, and the bank's responsibility for the conduct of its clients
Features a new chapter on conflicts of interest in financial services, expanded treatment of ethical issues in IPOs, and a new discussion about the discarding of pension funds
Cites examples of the scandals that have shaken public confidence in Wall Street