Ethics in Nursing Practice: A Guide to Ethical Decision Making, 3rd Edition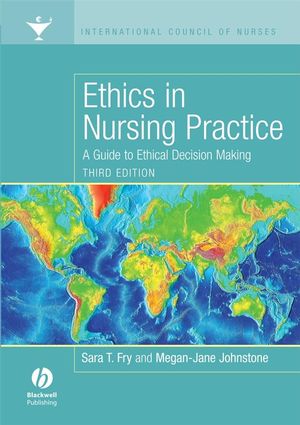 Ethics in Nursing Practice: A Guide to Ethical Decision Making, 3rd Edition
ISBN: 978-1-405-16052-0 June 2008 Wiley-Blackwell 232 Pages
Description
Every day nurses are required to make ethical decisions in the course of caring for their patients.
Ethics in Nursing Practice
provides the background necessary to understand ethical decision making and its implications for patient care. The authors focus on the individual nurse's responsibilities, as well as considering the wider issues affecting patients, colleagues and society as a whole.
This third edition is fully updated, and takes into account recent changes in ICN position statements, WHO documents, as well as addressing current issues in healthcare, such as providing for the health and care needs of refugees and asylum seekers, bioethics and the enforcement of nursing codes. This publication from the International Council of Nurses is the essential resource for nurses seeking to understand ethical decision making, written by world experts in nursing ethics.
Table of contents
Contents 3e.
Foreword.
Preface.
Part 1Preparation for ethical decision making.
1Value formation and value conflict.
The nature of values.
Cultural values.
Religious values.
Personal values.
Professional values.
Values conflicts 1.
2The discipline of ethics 1.
Traditional ethics.
Theories of ethics.
Principles of ethics.
Beyond traditional theories of ethics and principlism.
Ethics and the law.
Bioethics.
3Ethical concepts for nursing practice.
Advocacy.
Accountability/responsibility.
Cooperation.
Caring.
Consensus on the concepts.
4Standards for ethical behaviour.
Early standards for nurses' ethical behaviours.
Development of nursing codes of ethics.
Functions of a code of ethics.
Common themes in nursing codes of ethics.
Application and enforcement of nursing codes of ethics.
5Ethical analysis and decision making in nursing practice.
Models for ethical analysis and decision making.
A model for ethical analysis and decision making in.
nursing practice.
Taking ethical action.
Part 2Ethical responsibilities of the nurse.
6Promoting health.
7Preventing illness.
8Restoring health.
9Alleviating suffering.
Part 3Applying ethics to nursing practice.
10Nurses and people.
Serving people who need nursing care.
Individual versus collective good.
Respecting values, customs and spiritual beliefs.
Protecting human rights and dignity.
11Nurses and practice.
Allocating nursing care.
Delegating nursing authority to others.
Accepting responsibility for nursing care.
12Nurses and the profession.
Implementing desirable standards of nursing practice and nursing.
education.
Participating in research involving human subjects.
Equitable social and economic working conditions in nursing.
13Nurses and co-workers.
Cooperating with physicians.
Cooperating with nurses and other co-workers.
Reporting incompetent nursing care.
Appendix 1Teaching ethics to nurses.
Appendix 2Taking moral action.
Appendix 3Glossary.
Appendix 4 ICN Code of Ethics.
Index.
Reviews
?This is an excellent resource and a very informative book about the field of ethics and how ethical principles can be applied specifically to nursing.? (Doody?s, 2009)
Features
• Includes the revised ICN Code of Ethics for Nurses (2006)
• Considers the relationship between ethics and law
• Draws upon everyday ethical dilemmas in nursing practice
• Written by acknowledged experts in nursing ethics.