Europe: Privilege and Protest: 1730-1789, 2nd Edition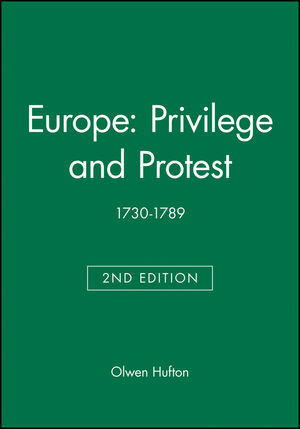 Europe: Privilege and Protest: 1730-1789, 2nd Edition
ISBN: 978-0-631-21513-4 February 2001 Wiley-Blackwell 296 Pages
Description
This book is an updated and revised edition of a classic introduction to one of the key periods in modern European history. Olwen Hufton not only illuminates the complex and significant events of the first era in which modernity is recognisable but provides the essential background to the revolutionary period that followed.
Table of contents
Author's Note.
Introduction.
Part I: Traditional Structures and the Forces of Change.
1. Social and Economic Development.
2. The World of Privilege.
3. The World of Ideas.
4. Armies, Interests and Conflicts.
Part II: Central and Eastern Europe.
5. The Holy Roman Empire.
6. The Habsburg Lands.
7. Prussia.
8. Russia.
Part III: The Western World.
9. Vanished Supremacies: The Iberian Peninsula.
10. The United Provinces.
11. France of the Old Regime.
12. The Old Order Changeth.
Conclusion.
Select Bibliography.
Index.
Reviews
Review of the Previous Edition:
"It is an integrated view set out by a historian of great learning, acumen and distinction. No one teaching or learning about the eighteenth century should neglect it." London Review of Books <!--end-->

Review of the Second Edition:

"Hufton follows a historiographic paradigm which results in her writing a truly European history, rather than a mere addition of national histories. Similarly, the complex interpretation of the interactions between political, social, and economic factors in each of the chapters creates a panoramic view on the European state(s) of the eighteenth century which is an intellectual pleasure to explore for students and experienced scholars alike." H-Net Reviews
Features


Provides a fascinating account of an important and widely-studied period in modern European history.

Highlights significant events that were the prelude to understanding the revolutionary period that followed.

New edition is updated and includes a fully revised bibliography.