Europe Divided: 1559 - 1598, 2nd Edition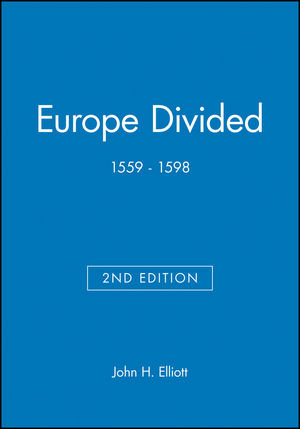 Europe Divided: 1559 - 1598, 2nd Edition
ISBN: 978-0-631-21779-4
Jun 2000, Wiley-Blackwell
332 pages
Description
Europe Divided is a fascinating and wide-ranging introduction to a complex age of movement and conflict. Professor Elliott's strong narrative takes account of political, economic and social developments and provides vivid portraits of the leading personalities of the era.

The book examines the hard lines of division in late sixteenth-century Europe: between a Protestant North and a Catholic South; between the rich, expanding economy of the West and the harsh poverty of the agrarian East. It was the period that saw the birth of the Dutch Republic; the defeat of the Spanish Armada; the western repulse of the Ottoman Empire; the revival of the papacy and an authoritarian Calvinism. It was also an era of strong political personalities, of Philip II and a powerful Habsburg Spain, of Queen Elizabeth and Catherine de Medici, of Henry IV and Montaigne.

Throughout the text, Professor Elliott has been concerned to reveal the complex interaction of events in different parts of the continent, rather than examining regions in isolation. The book therefore conveys the feeling of contemporaries of the era - that they were involved in a great European drama.
Part I: The Europe of Cateau-Cambresis:
.
1. The International Scene.
2. The European Economy.
3. The Problem of the State.
Part II: 1559-1572:.
4. Protestantism and Revolt.
5. Catholicism and Repression.
6. The War with Islam.
Part III: 1572-1585:.
7. Crisis in the North: 1572.
8. A Middle Way?.
9. The Growth of Spanish Power.
Part IV: 1585-1598:.
10. The International Conflict.
11. The Discomfiture of Spain.
12. The Divided Continent.
Maps.
Genealogical Tables.
Further Reading.
Index.
updated edition of a classic history
examines the era from a European perspective focusing on the interplay of events.