Europe For Dummies, 6th Edition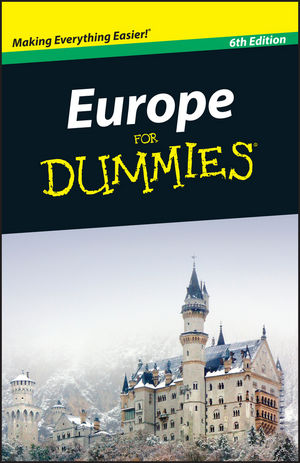 Europe For Dummies, 6th Edition
ISBN: 978-1-118-00356-5 December 2010 648 Pages
Description
For Dummies Travel guides are the ultimate user-friendly trip planners, combining the broad appeal and time-tested features of the For Dummies series with up-to-the-minute advice and information from the experts at Frommer's.
Small trim size for use on-the-go
Focused coverage of only the best hotels and restaurants in all price ranges
The fun and easy way to explore Europe
From great museums and historic sights to fabulous food and trendsetting styles, Europe has it all. Get the lowdown on everything from passports to palaces, culture to nightlife, and cathedrals to cuisine. With mini-guides to fifteen of Europe's most popular cities and surrounding areas in eleven different countries, this book is your ticket to an exciting European adventure.
Open the book and find:
Down-to-earth trip-planning advice
What you shouldn't miss -and what you can skip
The best hotels and restaurants for every budget
Lots of detailed maps
Introduction.
Part I: Introducing Europe.
Chapter 1: Discovering the Best of Europe.
Chapter 2: Deciding When and Where to Go.
Chapter 3: Presenting Five Great Itineraries.
Part II: Planning Your Trip to Europe.
Chapter 4: Managing Your Money.
Chapter 5: Getting to Europe.
Chapter 6: Getting Around Europe.
Chapter 7: Booking Your Accommodations.
Chapter 8: Catering to Special Travel Needs or Interests.
Chapter 9: Taking Care of the Remaining Details.
Part III: The British Isles.
Chapter 10: London and the Best of England.
Chapter 11: Edinburgh and the Best of Scotland.
Chapter 12: Dublin and the Best of Ireland.
Part IV: Central Europe.
Chapter 13: Paris and Environs.
Chapter 14: Amsterdam and Environs.
Chapter 15: Munich and Bavaria.
Chapter 16: Vienna and the Best of Austria.
Chapter 17: Bern and the Swiss Alps.
Chapter 18: Prague and Environs.
Part V: Mediterranean Europe.
Chapter 19: Rome and Southern Italy.
Chapter 20: Florence and Tuscany.
Chapter 21: Venice and Environs.
Chapter 22: Madrid and the Best of Castile.
Chapter 23: The Best of Barcelona.
Chapter 24: Athens and the Greek Islands.
Part VI: The Part of Tens.
Chapter 25: The Ten Most Overrated Sights and Attractions in Europe.
Chapter 26: Ten Overlooked Gems.
Chapter 27: Ten Ways to Break Out of the Tourist Mold.
Appendix: Quick Concierge.
Index.