Europe as I See It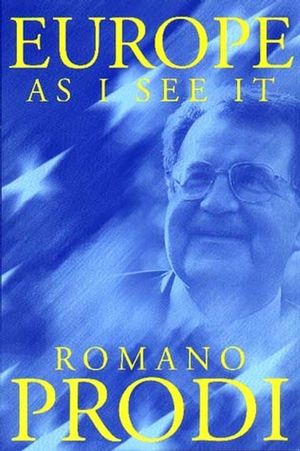 Europe as I See It
ISBN: 978-0-745-62496-9 December 2000 Polity 136 Pages
Description
What does "Europe" mean as we enter the 21st century? A rapidly-expanding club of nation states? A large single market in which labour, goods and services can move freely? A centralizing superstate run by unelected bureaucrats? An economic giant but a political pygmy on the world stage?
Romano Prodi, President of the European Commission, tackles these and other questions in this important new book. It offers both a political vision and a personal statement by one of the most important political figures in Europe today.

Central to Prodi's vision of Europe - what it can and should be - are the ideals of the European Union's founding fathers: Adenauer, De Gasperi, Monnet, Schuman. Their goal was a peaceful democratic Europe in which all the peoples of our continent could live together in security, freedom, justice and equality. The path towards that goal, argues Prodi, is inextricably bound up with economics. As the EU's Member States voluntarily pool their national sovereignty, especially monetary sovereignty, that dream - that vision of Europe - is gradually coming true.

This book will be of great interest to anyone concerned with Europe and its future.
Table of contents
Introduction.
PART I United Europe, Half a Century in the Making.
1. A Vision of Europe.
2. Latin Culture and Germanic Culture in the Creation of Europe.
3. In search of Europe's Soul.
4. Europe in an Interdependent World.
PART II Europe and the Mediterranean.
5. Mediterranean Countries and the European Union.
6. The Single Currency, Technological Competition and the Mediterranean's New Role.
PART III Europe on The World Stage.
7. Europe and Asia at the Turn of the Century.
8. European Industry and Finance up Against International Competition.
9. The Economy and the Technological Position of European Industry.
10. Employment in Europe.
Reviews
'A timely and important book.'
Will Hutton, Chief Executive, The Industrial Society
'This is an important book on an important subject by a man uniquely qualified to write it. It is not surprising that Romano Prodi should have written a book on Europe just before becoming President of the European Commission. Helping to create and develop an integrated Europe has always been close to his heart. He managed as Prime Minister against the scepticism of many inside and outside his country to bring Italy into the Single Currency. This book is not only the credo of an outstanding man. It is a detailed analysis of the important problems of a united Europe. It is the great good fortune for all of us in Europe that this man should now be in a position to play a leading part in the achievements of this ideal.' Eric Roll ( Lord Roll of Ipsden, KCMG, CB)

'Romano is a visionary thinker. The view he outlines of Europe's future in this book is very personal. He would not expect me to agree with all he says, but he comes at this topic with a very distinguished track record from both politics where he broke Italy's political mould by creating the "Olive tree coalition" and outside in business and academic life. As Prime Minister of Italy Prodi did much to modernize Italy and to prepare it for the Euro. Today, as President of the European Commission he is overseeeing far-sighted reforms that will deliver a more effective Commission, a more dynamic European economy and ensure that we have a European Union which can live up to the challenge of enlargement.' Tony Blair

'This edited collection of speeches delivered by Romano Prodi in 1997-8, mostly while he was Italian Prime Minister, provides a useful background to the intellectual origins and assumptions of the current President of the European Commission.' William Wallace, London School of Economics and Political Science

'This books will be of great interest to anyone concerned with Europe and its future and is particularly timely' European Access Plus
Features
1 A major statement by the President of the European Commission
2 Presents a vision for Europe and its future by one of the most powerful political figures in the European Union