European History for Dummies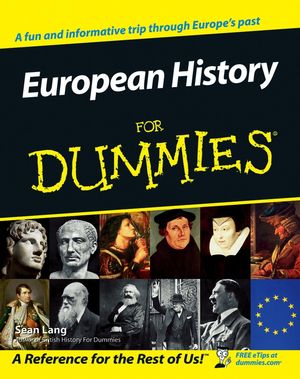 European History for Dummies
ISBN: 978-1-119-99726-9 February 2011 428 Pages
Description
A fun, informative guide to Europe's past and present.

The history of Europe is rich, complex, vibrant, and at times violent; it has influenced many countries throughout the world and has itself been influenced by many countries. In the light-hearted European History For Dummies, historian Sean Lang explores the countries, conflicts, people, institutions, disasters, and triumphs that have helped shape modern-day Europe, packing in tons of facts alongside the fun. Chapters range from "Celts without Kilts" and "What a Way to Run a Republic!" to "I Capture Quite a Few Castles," "Reformation Ruckus," and "The War to End All Wars."

Sean Lang, the author of British History For Dummies (0-7645-7021-8), is also a history lecturer, examiner, and writer.
Introduction.
Part I: Origins of a Continent.
Chapter 1: Not so much a continent, more a view of life.
Chapter 2: The Stone Age Rocks.
Part II: Europe of  the Ancients.
Chapter 3: You're Ancient History!
Chapter 4: The Ups and Downs of the Roman Empire.
Part III: Middle Ages.
Chapter 5: Dancing in the Dark Ages.
Chapter 6: Gold, Murder, and Frankish Sense.
Chapter 7: Knock, Knock, Knocking Heads at Heaven's Door.
Chapter 8: Don't Call Us Medieval!
Part IV: New Ideas, New Worlds.
Chapter 9: Back to the Future: The Renaissance.
Chapter 10: Reformation Ruckus.
Chapter 11: Mass and Nassacre: The Wars of Religion.
Chapter 12: Tsar Wars.
Chapter 13: Absolute Power: The Sun King Rises.
Part V: Europe Rules the World.
Chapter 14: The (Almost) Irresistible Rise of France and Russia.
Chapter 15: Seeking Enlightenment.
Chapter 16: France Catches a Cold – and We're all Sneezing.
Chapter 17: Grime Wave: Europe Gets Industrial.
Chapter 18: Building Nations.
Part VI: Europe Tears Itself in Two.
Chapter 19: Europe's Age of Empire.
Chapter 20: The War to End All Wars - Doesn't.
Chapter 21: Revolution in Russia.
Chapter 22: Europe Goes to Extremes.
Chapter 23: World War and Cold War.
Chapter 24: Eurovision.
Part VII: The Part of Tens.
Chapter 25: Ten Europeans who Dominated the Continent.
Chapter 26: Ten Days That Shook Europe - and the World.
Chapter 27: Ten Places (apart from Naples) to See Before You Die.
Chapter 28: Ten Things Europe (and the World) Could Have Done Without.
Index.
"...Lang has produced a comprehensive, concise, fascinating account...of the main events that have helped shaped modern history..." (
The Times Educational Supplement
, June 2006)
"...well worth reading, handy as a reference book...." (The Teacher, July 2006)