European Logistics: Markets, Management and Strategy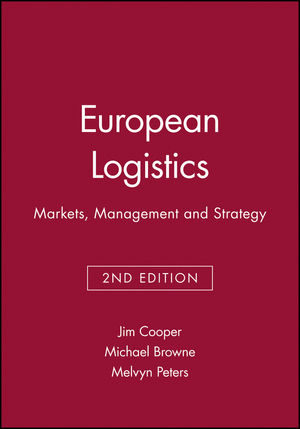 European Logistics: Markets, Management and Strategy
ISBN: 978-0-631-19226-8
May 1994, Wiley-Blackwell
344 pages
Description
Based on five years fieldwork it is a timely analysis of the current status of logistics and its future role in European business.
Acknowledgements.
List of Abbreviations.
1. Introduction.
2. European Logistics in Context.
PART 1 DEMAND-SIDE LOGISTICS.
3. European Manufacturing.
4. Innovation in Manufacturing Logistics.
5. European Retailing.
6. Innovation in Retail Logistics.
7. Improving Logistics Efficiency.
PART 2 SUPPLY-SIDE LOGISTICS.
8. Logistic as a Business.
9. Patterns of Logistics Services.
10. The Rise of the Mega-Carrier.
11. Information Technology: Competitive Advantage or Necessity?.
PART 3 THE FUTURE.
12. Will Transport Prices Fall?.
13. Green Logistics.
14. Into the Twenty-First Century.
Notes.
References.
Glossary.
Index.
'in terms of its breadth, authority and readability ... Cooper, Browne and Peters is by far the best.' --
International Journal of Distribution and Logistics Management
<!--end-->
' ... warmly recommended.' -- Overseas Trade