European Review of Social Psychology, Volume 10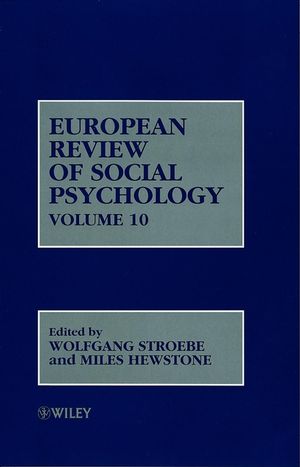 European Review of Social Psychology, Volume 10
ISBN: 978-0-471-60813-4
Jun 2000
336 pages
Description
The European Review of Social Psychology is an annual series that reflects the dynamism of social psychology in Europe and the attention now paid to European ideas and research.

Although open to authors from all nations, one of its major purposes is to further the international exchange of ideas by providing an outlet for substantial accounts of theoretical and empirical work that has not been previously published in English. With the help of an editorial board consisting of senior scholars from various European countries and the USA, the editors invite outstanding researchers to contribute to these volumes. The emphasis of these contributions is on critical assessment of major areas of research and of substantial individual programmes of research as well as on topics and initiatives of contemporary interest and originality

The authors of this tenth volume are drawn form Europe and the United States, and represent the international scope and quality which are hallmarks of this series.
Explaining Asymmetric Intergroup Judgments through Differential Aggregation: Computer Simulations and Some New Evidence (K. Fiedler, et al.).

Perceived Group Variability in Intergroup Relations: The Distinctive Role of Social Identity (B. Doosje, et al.).

Cognition, Affect and the Prediction of Social Attitudes (G. Haddock & M. Zanna).

Habit, Attitude, and Planned Behaviour: Is Habit an Empty Construct or an Interesting Case of Goal-directed Automaticity? (B. Verplanken & H. Aarts).

Comparing Is Believing: A Selective Accessibility Model of Judgmental Anchoring (T. Mussweiler & F. Strack).

Cancellation and Focus: A Feature-matching Model of Choice (S. Sherman, et al.).

Confirmation and Disconfirmation: Their Social Advantages (J.-P. Leyens, et al.).

Cooperation and Competition as Partners (E. Van de Vliert).

Reciprocity in Interpersonal Relationships: An Evolutionary Perspective on Its Importance for Health and Well-being (B. Buunk & W. Schaufeli).

Indexes.

Contents of Previous Volumes.