European Review of Social Psychology, Volume 5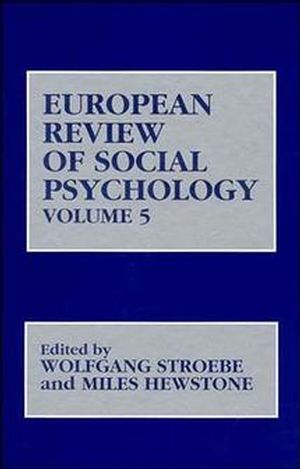 European Review of Social Psychology, Volume 5
ISBN: 978-0-471-95027-1
Apr 1995
372 pages
Description
The European Review of Social Psychology is an annual series that reflects the dynamism of social psychology in Europe and the attention now paid to European ideas and research. Although open to authors from all nations, one of its major purposes is to further the international exchange of ideas by providing an outlet for substantial accounts of theoretical and empirical work that has not been previously published in English. With the help of an editorial board consisting of senior scholars from various European countries and the USA, the editors invite outstanding researchers to contribute to these volumes. The emphasis of these contributions is on critical assessment of major areas of research and of substantial individual programmes of research as well as on topics and initiatives of contemporary interest and originality. The authors of this fifth volume are drawn from Europe and the United States, and represent the international scope and quality which are the hallmarks of this series.
Are People Prejudiced Against Women?

Some Answers from Research on Attitudes, Gender Stereotypes, and Judgments of Competence (A. Eagly & A. Mladinic).

The ``Black Sheep Effect'': Social Categorization, Rejection of Ingroup Deviates, and Perception of Group Variability (J. Marques & D. Paez).

Revision and Change of Stereotypic Beliefs: In Search of the Elusive Subtyping Model (M. Hewstone).

Trait Inferences, Impression Formation, and Person Memory: Strategies in Processing Inconsistent Information About Persons (R. Vonk).

The Functional Value of Realistic Attributions (F. Forsterling).

Subjective Assessments and Evaluations of Change: Some Lessons from Social Cognition Research (N. Schwarz, et al.).

Social Comparison Processes Under Stress: Towards an Integration of Classic and Recent Perspectives (B. Buunk).

Expectation States Theory and the Motivational Determinants of Social Influence (D. de Gilder & H. Wilke).

Why Groups Are Less Effective than Their Members: On Productivity Loss in Idea-Generating Groups (W. Stroebe & M. Diehl).

Group Socialization: Theory and Research (J. Levine & R. Moreland).

Indexes.

Contents of Previous Volumes.