European Wet Grasslands: Biodiversity, Management and Restoration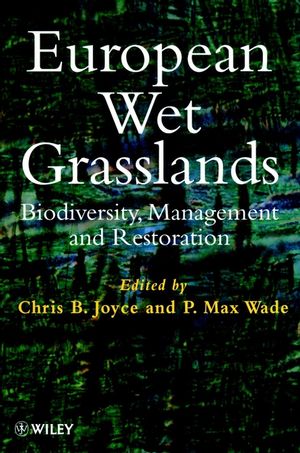 European Wet Grasslands: Biodiversity, Management and Restoration
ISBN: 978-0-471-97619-6 June 1998 358 Pages
Description
There is growing concern over the conservation and management of European wet grasslands. The maintenance of the European wet grassland landscape, including floodplain meadows and coastal grazing marshes or pastures, through traditional low-intensity farming has conserved a habit supporting internationally important plant and animal communities, including many rare species. However,land use changes such as flood defence, land drainage, agricultural intensification and neglect have caused a considerable reduction in the extent and biodiversity of European wet grasslands. The international importance of the habitat for biodiversity conservation has recently been recognised with its inclusion in the European Union Habitats and Species Directive and the Convention on Biological Diversity fostered by the United Nations. This volume thoroughly examines European perspectives of wet grassland ecology in order to encourage an integrated approach to contemporary issues. Important topics covered include the status of wet grasslands in Europe, their biodiversity (plants, invertebrates and birds), hydrology and management (especially for conservation objectives), and the restoration of this threatened habitat. It combines prescriptive, analytical and reviewing contributions, including case studies from across Europe. As such, this book will appeal equally to academic institutions and professional practitioners.
Table of contents
Partial table of contents:
Wet Grasslands: A European Perspective (C. Joyce P. Wade).
STATUS.
The Conservation of Lowland Wet Grassland in England (R. JeffersonP. Grice).
The Ecology of Floodplain Grasslands in Estonia (L. Truus A.Tnisson).
BIODIVERSITY.
The Formation, Vegetation and Management of Sea-Shore Grasslands inWest Estonia (E. Puurmann U. Ratas).
The Important Habitats and Characteristic Rare Invertebrates ofLowland Wet Grassland in England (M. Drake).
MANAGEMENT.
Dynamics of Plant Litter in Riparian Meadows: Setting a Referencefor Management (S. Xiong C. Nilsson).
Managing Water for Wetland Ecosystems: A Case Study (A. ArmstrongS. Rose).
RESTORATION.
Residual Effects of Phosphorus Fertilization on the Restoration ofFloristic Diversity to Wet Grassland (J. Tallowin, et al.).
Restoration of a Target Wet Grassland Community on Ex-Arable Land(S. Manchester, et al.).
Glossary.
Vascular Plant Nomenclature.
Index.