Evaluating Sustainable Development: in the Built Environment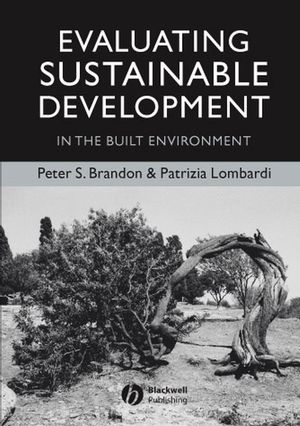 Evaluating Sustainable Development: in the Built Environment
ISBN: 978-1-405-17234-9
Feb 2009, Wiley-Blackwell
240 pages
Description
Sustainable development has been characterised by an emphasis on environmental issues and an ad hoc approach to structuring the subject which hinders the development of knowledge in a systematic way. The built environment contributes significantly to the environment but is also one of the major factors in determining whether a community is sustainable in the longer term.

A structure is required which aids definition, provides a common set of values, establishes measurement methods to define progress, and suggests a management system and decision protocol which enables practitioners to engage and use the resultant structures and information.

This book provides a suggested structure in which all aspects of sustainable development can be included together with a set of evaluation techniques which can be used within the structure to provide assistance to decision making.
Preface; Acknowledgements; Setting the context for evaluating sustainable development; Approaches to evaluation; Time and sustainability; A proposed framework for evaluating sustainable development; The framework as a structuring tool; case studies; Assessment methods; Towards management systems and protocols; The future issues; Appendices; References; Index
'clearly written and rigorous'
Professor Stefano Stanghellini,
VeniceUniversity,
Past President of National Planning Institute,
Italy.
'Sustainable development is a key issue in our society. This book provides a significant contribution towards a rigorous assessment of our living environment and, indirectly, towards an improvement in our quality of life both now and in the future. It will be of interest to all academics, consultants, and private and public authorities for both the innovative approach suggested and the fact that it provides an easy introduction to this complex subject.' Professor Riccardo Roscelli, President of SiTI – Turin (IT)

'This is one of the best books on the subject that I have read. It will be of considerable international interest to practitioners, researchers and students who will inevitably find it stimulating and challenging. The book provides a novel approach to a critical issue in our society today – though one that is often not well defined nor approached with this level of rigour. It is clearly written and will be a reference point for many years to come.' Professor Keith Hampson
Chief Executive Officer, Australian Cooperative Research Centre for Construction Innovation

'The book deserves to be read and warrants serious attention from policy-makers, consultants and practitioners alike because the text has the nerve to tackle some of the most pressing questions currently being asked about the sustainablity of the built environment.' Building Research & Information 33.


'The book is well structured ... easily readable and stringent in its argumentation.' Construction Management and Economics Jan- Mar 2006

'Many contributions on sustainable development are rather vague. THis new book is a notable exception. It is an intellectual pleasure to read this book, as it combines a strong and original methodical approach with interesting case studies from different countries. It offers many new perspectives, is well written, and may be seen as a welcome addition to the literature. ...In conclusion the book is thought provoking and may be seen as a landmark in the theory on sustainable development planning.' Environment and Planning 2006
* one of the first books to provide a structured approach to sustainable development
* discusses key issues for establishing a coherent approach to evaluating and understanding sustainability
* includes a set of evaluation techniques to aid decision making
* features case studies to illustrate the principles being developed