Evaluation Advisory Groups: New Directions for Evaluation, Number 136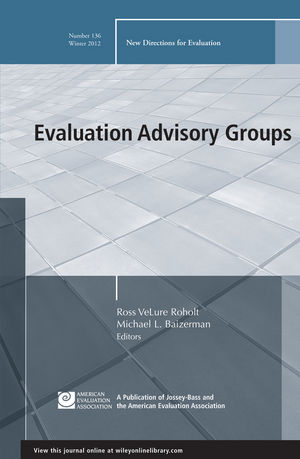 Evaluation Advisory Groups: New Directions for Evaluation, Number 136
ISBN: 978-1-118-55259-9 December 2012 Jossey-Bass 144 Pages
Description
Advisory committees are used often in evaluation studies, yet this practice is little discussed or reported. This issue is the first full-length text devoted to the purpose, practice, and scholarship about this type of formal, structured advice.
It includes case studies and analyses of these to answer such basic topics as:
What is an evaluation advisory group (EAG)?
Why (not) use an EAG?
How to organize an EAG, and how to evaluate it?
The reader will learn how to view the EAG as a structure of expertise, its use for political legitimacy, and as a response to a variety of constituencies. Guidelines on how to recruit, select, orient, train, monitor, assess, and evaluate EAG members are also included. 


This is the 136th volume of the Jossey-Bass quarterly report series New Directions for Evaluation, an official publication of the American Evaluation Association.
EDITORS' NOTES 1
Ross VeLure Roholt, Michael L. Baizerman
1. From Consilium to Advice: A Review of the Evaluation and Related Literature on Advisory Structures and Processes 5
Michael L. Baizerman, Alexander Fink, Ross VeLure Roholt
A review of literature on advisory groups and the specific literature on evaluation advisory groups shows the need for research on and evaluation of evaluation advisory groups, and for guidelines for ethical, effective practice.
2. Advisory Committees in Contract and Grant-Funded Evaluation Projects 31
Paul W. Mattessich
This chapter describes the use of evaluation advisory committees in contract and grant-funded project evaluations with the use of examples from fields of human services and public health education to illustrate the uses, functions, features, and structural options.
3. Advisory Groups for Evaluations in Diverse Cultural Groups, Communities, and Contexts 49
Barry B. Cohen
The author identifies useful roles advisory groups can play in evaluations in diverse cultural contexts.
4. The Evolution of a Philosophy and Practice of Evaluation Advice 67
Donald W. Compton, Michael L. Baizerman
The need, want, utility, and day-to-day practicalities of evaluation consultation at the American Cancer Society and at the U.S. Centers for Disease Control are presented and discussed.
5. Advice Giving in Contested Space 77
Ross VeLure Roholt
This case study focuses on using an evaluation advisory group to evaluate a museum exhibition at the national museum of Northern Ireland on the legacy of The Troubles, a term used to refer to the last 30 years of violent civil strife.
6. Empowering the Voice of Youth: The Role of Youth Advisory Councils in Grant Making Focused on Youth 87
Katie Richards-Schuster
This chapter focuses on the potential role for youth evaluation advisory groups within youth grant-making organizations and networks.
7. Congratulations on the New Initiative! Is It Time for a New Committee? 101
Betsy Baum Block
This case study discusses the framework of an evaluation advisory committee used by the United Way of the Bay Area's cutting poverty initiative.
8. Decolonizing Evaluation: The Necessity of Evaluation Advisory Groups in Indigenous Evaluation 109
Katie Johnston-Goodstar
This chapter will explicate how evaluation advisory groups can help evaluators decolonize their practice when working with Indigenous communities.
9. A Model for Evaluation Advisory Groups: Ethos, Professional Craft Knowledge, Practices, and Skills 119
Ross VeLure Roholt, Michael L. Baizerman
Based on the analysis of case studies of evaluations that have used evaluation advisory groups, a model for evaluation advisory groups is presented.
INDEX 129