Evaluation and Social Justice in Complex Sociopolitical Contexts: New Directions for Evaluation, Number 146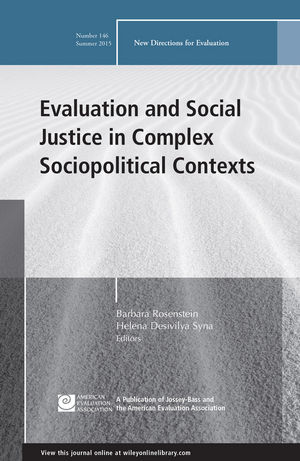 Evaluation and Social Justice in Complex Sociopolitical Contexts: New Directions for Evaluation, Number 146
ISBN: 978-1-119-11389-8 July 2015 Jossey-Bass 144 Pages
Description
This volume is devoted to the theme of social responsibility, social justice, and evaluation. It examines the evaluation–social justice interface and:

shares a variety of options and examples from different settings,
gives voice to populations whose voices are rarely heard, and
contributes to fulfilling the potential of the significant role evaluation can have in promoting social change.
First discussing issues related to evaluation, social responsibility, social justice, and marginalized populations in general, it goes on to address issues concerning populations marginalized due to health, psychological, and physical difficulties; their cultural or ethnic/national status; or the specific geopolitical context of Israel.

This is the 146th issue in the New Directions for Evaluation series from Jossey-Bass. It is an official publication of the American Evaluation Association.
FROM THE EDITOR-IN-CHIEF 1
Paul R. Brandon
EDITORS' NOTES 3
Barbara Rosenstein, Helena Desivilya Syna
1. A Different Light on Normalization: Critical Theory and Responsive Evaluation Studying Social Justice in Participation Practices 9
Susan Woelders, Tineke Abma
Against a backdrop of Foucault's theory of normalization, this article considers the following issues: how a theoretical framework for societal critique helps to understand social injustices, what characterizes the role of the evaluator, and how a different perspective on normal can further inclusion.
2. A Purpose-Driven Action: The Ethical Aspect and Social Responsibility of Evaluation 19
Miri Levin-Rozalis
The author writes this article in a conversational format between an evaluator and her colleague in which they unpack the ethical issues and social responsibilities of evaluation.
3. Social Space and Field as Constructs for Evaluating Social Inclusion 33
Noam Lapidot-Lefler, Victor J. Friedman, Daniella Arieli, Noha Haj, Israel Sykes, Nasreen Kais
Drawing on field theory, these authors argue that the evaluation of social exclusion and social inclusion requires evaluators to reconsider their role and methods, as well as to revise the fundamental constructs through which they study interventions and change.
4. Social Justice in Action: The Contribution of Evaluation to Employment Integration of a Vulnerable Population—The Case of College Graduates With Learning Disabilities 45
Helena Desivilya Syna, Amit Rottman, Michal Raz
The authors present the sociopolitical and socioeconomic context, the brave new job market, as a background for the evaluation—social justice interface.
5. Integrating Human Rights in Program Evaluation: Lessons From Law and Health Programs in Kenya 57
Sofia Gruskin, Emily Waller, Kelly Safreed-Harmon, Tamar Ezer, Jonathan Cohen, Anne Gathumbi, Patricia Kameri-Mbote
This article uses the concepts and methods of human rights to evaluate the programs of three Kenyan nongovernmental organizations that integrate legal and health services as a means to empower key populations.
6. Promoting Social Justice Through a New Teacher Training Program for the Bedouin Population in the Negev: An Evaluation Case Study 71
Judith Zamir, Saleem Abu Jaber
The authors illustrate how a joint effort between the evaluation team and the program developers promoted equal opportunities for Bedouin women teachers involved in the Partner Development Schools training program.
7. The Role of Evaluation in Affirmative Action–Type Programs 83
Khawla Zoabi, Yaser Awad
Using the cases of two separate pre-academic preparatory programs, the authors conclude that evaluation could be conceptualized as a promoter of social justice.
8. Evaluation in the Branco Weiss Institute: From Social Vision to Educational Practice 95
Ruthie Lustig, Shira Ben Baruch-Koskas, Tova Makhani-Belkin, Tami Hirsch
The article presents an internal evaluation unit as a democratic and culturally responsive mechanism that promotes social justice and generates new knowledge for the organization and its programs.
9. Evaluation Under Occupation: The Role of Evaluators in Protecting and Promoting Social Justice and Equality in Conflict-Affected and Fragile Contexts (The Case of the Occupied Palestinian Territory) 107
Khalil Bitar
Within an extremely challenging context, the author explains some of the political, logistical, methodological, and ethical challenges that evaluators in the occupied Palestinian territory have experienced in order to conduct well-informed and equity-focused evaluation work during the past 20 years since the establishment of the Palestinian National Authority (PNA).
10. Evaluation of a Joint Israeli–Palestinian Project 119
Shoshana Steinberg, Judith Zamir
Based on a project in which Israeli and Palestinian teachers produced a textbook including the historical narratives of each group, this article highlights the significant contribution of the evaluator to the entire process.
INDEX 129