Evaluation of Drug Candidates for Preclinical Development: Pharmacokinetics, Metabolism, Pharmaceutics, and Toxicology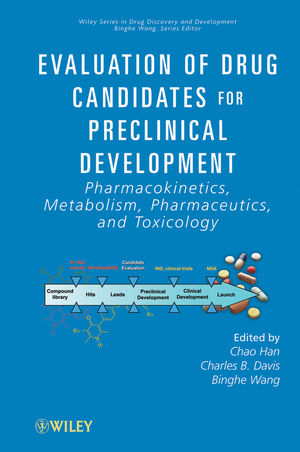 Evaluation of Drug Candidates for Preclinical Development: Pharmacokinetics, Metabolism, Pharmaceutics, and Toxicology
ISBN: 978-0-470-04491-9
Jan 2010
289 pages
Description
Emphasizes the integration of major areas of drug discovery and their importance in candidate evaluation
It is believed that selecting the "right" drug candidate for development is the key to success. In the last decade, pharmaceutical R&D departments have integrated pharmacokinetics and drug metabolism, pharmaceutics, and toxicology into early drug discovery to improve the assessment of potential drug compounds. Now, Evaluation of Drug Candidates for Preclinical Development provides a complete view and understanding of why absorption-distribution-metabolism-excretion-toxicology (ADMET) plays a pivotal role in drug discovery and development.
Encompassing the three major interrelated areas in which optimization and evaluation of drug developability is most critical—pharmacokinetics and drug metabolism, pharmaceutics, and safety assessment—this unique resource encourages integrated thinking in drug discovery. The contributors to this volume:
Cover drug transporters, cytochrome P-450 and drug-drug interactions, plasma protein binding, stability, drug formulation, preclinical safety assessment, toxicology, and toxicokinetics

Address developability issues that challenge pharma companies, moving beyond isolated experimental results

Reveal connections between the key scientific areas that are critical for successful drug discovery and development

Inspire forward-thinking strategies and decision-making processes in preclinical evaluation to maximize the potential of drug candidates to progress through development efficiently and meet the increasing demands of the marketplace
Evaluation of Drug Candidates for Preclinical Development serves as an introductory reference for those new to the pharmaceutical industry and drug discovery in particular. It is especially well suited for scientists and management teams in small- to mid-sized pharmaceutical companies, as well as academic researchers and graduate students concerned with the practical aspects related to the evaluation of drug developability.
PREFACE.
CONTRIBUTORS.
1. INTRODUCTION (Charles B. Davis).
2. PHARMACOKINETICS IN PRECLINICAL DRUG DEVELOPMENT: AN OVERVIEW (Dion Brocks).
3. THE ROLE OF MEMBRANE TRANSPORTERS IN DRUG DISPOSITION (Fanfan Zhou, Peng Duan, and Guofeng You).
4. CYTOCHROME P450: STRUCTURE, FUNCTION, AND APPLICATION IN DRUG DISCOVERY AND DEVELOPMENT (Ramesh B. Bambal and Stephen E. Clarke).
5. THE ROLE OF DRUG METABOLISM AND METABOLITE IDENTIFICATION IN DRUG DISCOVERY (Xiangming Guan).
6. PROTEIN BINDING IN DRUG DISCOVERY AND DEVELOPMENT (Vikram Ramanathan and Nimish Vachharajani).
7. PREDICTION OF THE PHARMACOKINETICS IN HUMANS (Chao Han and Ramesh Bambal).
8. PHARMACEUTICS DEVELOPABILITY ASSESSMENT (Lian Huang, Jinquan Dong, and Shyam Karki).
9. SAFETY ASSESSMENT IN DRUG DISCOVERY (Vito G. Sasseville, William R. Foster, and Bruce D. Car).
10. ASSESSMENT OF STRATEGIES UTILIZED TO MINIMIZE THE POTENTIAL FOR INDUCTION OF ACQUIRED LONG QT SYNDROME AND TORSADE DE POINTES (Khuram W. Chaudhary and Barry S. Brown).
INDEX.
"This is a useful reference source for those new to, or aspiring to join the pharmaceutical industry, for academics, and for students of pharmacy and pharmaceutical sciences." (Chromatographia, 1 December 2010)

"In conclusion, the book brings the areas of ADME, toxicology and pharmaceutical science together to describe the approaches used to select safe compounds with the required pharmacokinetic and physiochemical properties for progressing into clinical development". (British Toxicology Society, Winter 2010)