Eve Escapes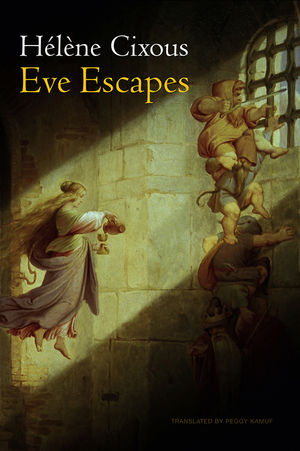 Eve Escapes
ISBN: 978-0-745-65097-5 September 2012 Polity 208 Pages
Description
""I get up every day with one day more,"" says Eve, the writer's 97-year-old mother. She is escaping into the New Life and the writer must race to catch up. As things slip away and fall into oblivion, as her mother's world and thus her own relentlessly shrinks, the writer is stunned to see for the first time the vestiges of a prison scene in her beloved Tower of Montaigne, which she has been visiting for fifty years. It represents the story of Cimon and Pero, a daughter's act of charity that saved her father from certain death. How extraordinary that it should only now appear to this other daughter who dreams of nothing less for her parent and thus for herself. A different prison scene draws the writer to reflect on Freud's remark ""that the dream of a prisoner can have nothing other than escape as content,"" a comment he illustrates with Moritz von Schwind's painting The Prisoner's Dream. But it is Freud's own dreams of escape from the prison of declining powers in his old age that the writer channels through her telepathic connection to the one she calls her ""nuncle."" She knows that the worst, worse even than the effects of the disease eating through his body, would have been the obliteration of his dreams upon waking, a sensation of theft that is ""like a rug one pulls from beneath the head's feet, bam, bam! like a tapestry of life folded up in a flash."" And yet life's tapestry has never seemed more richly colored, more elaborately woven, more abundantly endowed with the gifts of Eve, the mother, the midwife, the irrepressible story-teller, the great escape artist, and the indomitable heroine of this book.
Table of contents
Day of Sufferance
The Prisoner's Dream
Freud Dreams No More
The Shrinking
Tales and Days of Reading
The Cane and the Parasol
On Board the Magnolia
I Become a Cemetery Citizen
Translator's Notes
Reviews
""Suggests the mysteriousness of parents and the inacccessible internal lives barely imaginable to their children.""
Times Higher Education
""
Eve Escapes
is all at once a poetic meditation on aging, a performative novel on the powers of writing, and a passionate description of a literary family. This book, published in a beautiful translation, is a high point in Cixous's narrative oeuvre, whose singularity and magic are simply inextinguishable.""
Laurent Dubreuil, Cornell University
""Cixous's ongoing saga of farewell to her mother offers an unprecedented exploration of what it means to live old age. Moving between Freud and Montaigne, between broccoli and Balzac, the writer has created a poignant yet joyful celebration of her nonagenerian mother's determination to live life to the full.""
Mairéad Hanrahan, University College London
What's New
Cixous is generally regarded as one of the leading, if not the leading French feminist writer.
All of her books tend to be written as philosophical novels, combining elements of autobiography and fiction with reflection of a more philosophical and psychoanalytic kind.
This is an extremely moving account of her relationship with her mother.
This should be of interest to students of Cixous and of contemporary French theory/novels.