Event Entertainment and Production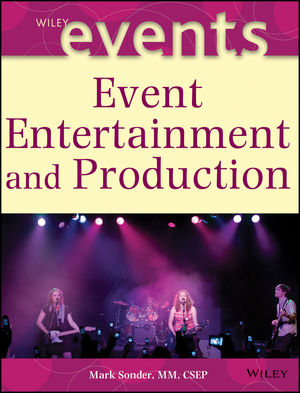 Event Entertainment and Production
ISBN: 978-0-471-26306-7 December 2003 456 Pages
Description
From assessing the client's need for entertainment at an event to hiring the talent to the nuts and bolts production of the entertainment, The Complete Guide to Event Entertainment and Production provides the event planner with the tools they need to efficiently produce and manage the entertainment aspect of an event.
PART I: THE ENTERTAINMENT & EVENT PRODUCTION INDUSTRY.
The Entertainment Economy: Big Business!
Global Opportunities for Event Entertainment and Production.
Becoming a Leader in the Event Entertainment and Production Fields.
Opportunities for Future Growth and Development.
PART II: RESEARCHING, DESIGNING, PLANNING PRODUCTION, AND EVENT ENTERTAINMENT.
How to Research the Needs and Resources for Your Event.
Managing the Creative Process.
Strategic Planning for Event Production and Entertainment.
Financial Planning and Management: How to Measure the Return on Event Entertainment.
PART III. COORDINATING EVENT ENTERTAINMENT AND PRODUCTION.
Selecting and Contracting Event Production and Entertainment Vendors.
Musicans, Entertainment Management Companies, Agents, Managers, and Headline Entertainment.
Monitoring Production and Entertainment to Ensure Continuous Quality.
Reducing Risk: Assessment, Intervention, and Control.
Music Licensing.
PART IV: BEST PRACTICES AND CREATIVE STRATEGIES IN EVENT ENTERTAINMENT AND PRODUCTION.
Best Practices in Event Entertainment and Production.
The Standard Aspects of Multimedia Production.
The Future of Event Production and Entertainment.
Broad coverage of the subject, discussing issues such as : how entertainment fits into an event; the design, planning, and production of entertainment; working within a budget; how to limit risks associated with entertainment; and more
Each chapter features an interview with an entertainer or event producer who will provide their perspective on the subject
Includes mini-cases of the author's experience with real-life events; and checklists of "what to do" for the event planner
Written by a high-profile author who is known throughout the entertainment and events industries as a producer of high-quality musical and entertainment events