Everybody Says Freedom: A History of the Civil Rights Movement in Songs and Pictures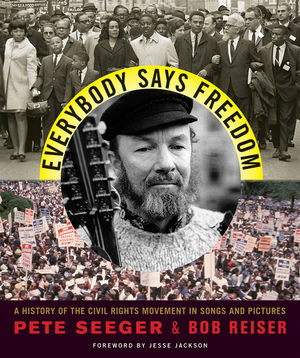 Everybody Says Freedom: A History of the Civil Rights Movement in Songs and Pictures
ISBN: 978-0-393-30604-0
*Norton agency titles
256 pages
Product not available for purchase
Description
"Filled with beautiful music, glorious lyrics, and the soul of one of the most important historical and social revolutions of our history." -- Judy Collins

This narrative scrapbook collects forty songs and includes profiles of activists and a chronological outline of the extraordinary events from 1955 to 1968. It is a story of courage and resilience on the part of ordinary people. From 'This Little Light of Mine' to 'We Shall Overcome,' the music of the time was both encouragement and catharsis for those who struggled against adversity in an effort to change the world.

In words, photographs, and music, Pete Seeger and Bob Reiser tell the story of the civil rights movement, building their narrative around the accounts of people involved and the songs that inspired their struggle. It documents the sit-ins, freedom rides, and marches that occurred along the long path to triumph in an uncertain age.