Everyday Inequalities: Critical Inquiries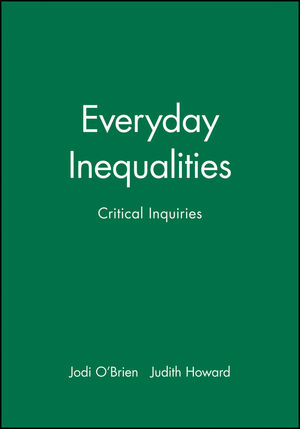 Everyday Inequalities: Critical Inquiries
ISBN: 978-1-577-18122-4 October 1998 Wiley-Blackwell 432 Pages
Description
Thirteen newly published articles on case studies performed by sociologists demonstrating the everyday interactions that reinforce dominance and resistance in modern society.
List of Contributors.
Foreword (Mary Romero).
Preface.
Acknowledgments.
Introduction: Differences and Inequalities (Jodi O'Brien).
PART I. EVERYDAY INTERACTION.
Doing Studs: The Performance of Gender and Sexuality on Late-Night Television (Jocelyn A. Hollander).
"I Need a Screw": Workplace Sexualization as an Interactional Achievement (Linda Van Leuven).
Acknowledgment Rituals: The Greeting Phenomenon Between Strangers (Carl Edward Pate).
"Are You Male or Female?" Gender Performances on Muds (Lori Kendall).
PART II. MANAGING SELF/SOCIETY CONFLICTS.
Frederick the Great or Frederick's of Hollywood? The Accomplishment of Gender Among Women In the Military (Melissa S. Herbert).
Sisyphus In a Wheelchair: Men with Physical Disabilities Confront Gender Domination (Thomas J. Gerschick).
Class Dismissed? Quad City Women Doing The Life (Martha L. Shockey).
Managing Everyday Racisms: The Anti-Racist Practices of White Mothers of African-Descent Children in Britain (France Winddance Twine).
Frontlines and Borders: Identity Thresholds for Latinas and Arab American Women (Laura M. Lopez and Frances S. Hasso).
PART III. INSTITUTIONAL DYNAMICS.
The Image That Dane Not Speak Its Name: Homoerotics in New Deal Photography (Shelley Kowalski).
Reproducing Racial and Class Inequality: Multiculturalism in the Arts (Jennifer L. Eichstedt).
The Politics of Race and Sport: Resistance and Domination in the 1968 African American Olympic Protest Movement (Douglas Hartmann).
Belongings: Citizenship, Sexuality, and the Market (Anthony J. Freitas).
Afterthoughts (Judith A. Howard).
Index.
"O'Brien and Howard have brought together an engaging and lively collection of articles that demonstrate the various ways that people create, re-create, and sometimes challenge social inequalities in our everyday interactions. This collection challenges the current simplistic tendency to see the 'doing of difference' as mere racial, gender, social class, or sexual 'performance'; Instead, the authors in Everyday Inequalities creatively illuminate various situations - in media, workplaces, the arts, or the street-in which people are actively negotiating their identities and their positions within socially-structured contexts of inequality." Michael A. Messner, University of Southern California
* Collection of newly published empirical studies that demonstrate dominance and subordination in everyday life.
* Inclusive of studies on gender, race, class, sexuality and disabilities.
* Exciting new work by up and coming scholars, foreword by Mary Romero.